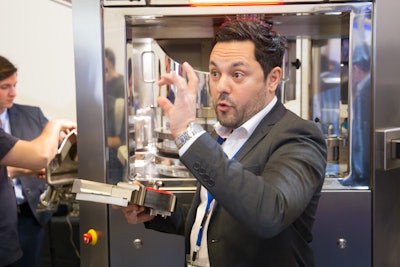 Romaco has just hosted a successful Open House in Madrid together with Heryval, the firm's Spanish agent. Heryval takes care of sales and service in Spain for all six Romaco brands in the pharmaceutical segment. Numerous guests accepted the invitation to profit from the interesting presentations and various machine demonstrations.
A few days ago in mid-June 2019, Romaco and Heryval were joint hosts at an Open House in Alcorcón, a city in the Madrid metropolitan area. More than 40 guests and customers from the pharmaceutical industry accepted the invitation to this major event, which was the first of its kind organised by the seasoned manufacturer on the Iberian peninsula. It was an ideal opportunity to become acquainted with Heryval, the local agent for all six Romaco brands in the pharmaceutical segment. By bundling its established product lines and turnkey solutions, Romaco hopes to get even closer to the customer in the Spanish market, where regular personal contacts are very important. Vitor Antunes, Regional Sales Director at Romaco, and Guillermo Bueno, Managing Director of Heryval, kicked off the event with a short welcome and a few words about the partnership. Several Romaco specialists then gave a detailed insight into the firm's processing, tableting and packaging technologies. The various presentations were interspersed with in-depth demonstrations on selected machines for the purpose of practical illustration.
Innovative processing and packaging technologies
Dr. h.c. Herbert Hüttlin, founder of Romaco Innojet, spoke about the internationally patented air flow bed method he invented a number of years ago, which was a breakthrough innovation in fluidised bed technology. Dr. Carola Hanl, KiTech Laboratory Manager at Romaco Kilian, explained the varied potential of laboratory work for developing new formulations and optimising existing processes. Product Manager Carlo Cattenati of Romaco Macofar discussed the requirements which the pharmaceutical industry lays down for machines and processes for filling sterile powders. After the break Rolf Izsak, Product Manager for the Romaco Siebler and Noack brands, gave an introduction to Siebler's Push Packs, which combine cost savings with excellent barrier properties on a par with Al/Al blisters. Eduardo Cara, Area Sales Manager Romaco Pharmatechnik, outlined how Noack blister machines can be teamed up with a Combo v2.0 feeder from French supplier Elizabeth Europe. This further adds to the Noack machines' flexibility, for example through compatibility with existing format parts. Nicola Orsini, Area Sales Manager Romaco Bologna, reported on the new Promatic cartoners, which enable vertical product feeding.
Demonstration of new technologies
The expert lectures were alternated with demonstrations on selected machines, which wound up with discussion rounds. Innojet showed the Ventilus®V5 processing machine, which manages with just one system for granulation, coating and drying on an air flow bed. The KTP420X single-sided rotary press from Kilian convinces with efficient cooling of the process area to below 30°C as well as optimised retooling and cleaning times. With a maximum output of 360,000 tablets per hour, it is among the high speed presses in its performance class. The Macofar MicroMaxX18 is a sterile microdosing machine which meets the high cGMP requirements for filling pharmaceutical powders with various flow properties. The PCI915 intermittent motion cartoner presented by Promatic is characterized by a very small footprint as well as high flexibility when it comes to format or product changes. The PartGuard warehouse system developed by Kilian enables the availability and replacements of spare and wearing parts to be monitored continuously with a minimum of paperwork. Finally, "Retrofit" is an electronic upgrade kit that allows older-generation tablet presses to continue to be used successfully for several more years if there is nothing actually wrong with them.
Stronger together
The Open House was a perfect chance for Romaco and Heryval to present a unified face to customers in the Spanish market. Local businesses, many of them international players, specify a very wide range of requirements as regards technology and services. Vitor Antunes, Regional Sales Director Romaco, emphasised: "The Romaco Group will gain a stronger foothold in Spain as a result and will also be able to offer efficient solutions for demanding applications. Heryval is a well-connected agent with the means to supply complete single-source lines and generate new opportunities." Guillermo Bueno, Managing Director of Heryval, added: "Spain is a market that traditionally attaches tremendous importance to regular personal contacts. We know what our customers want and we give them a full array of premium services far beyond the machines themselves." An entertaining evening programme rounded off the Open House. Quite a few customers have since taken advantage to attend more individual product presentations at Heryval.
Romaco Group
Romaco is a leading international supplier of processing and packaging equipment specialising in engineering technologies for pharmaceutical solids. The group provides individual machines and turnkey solutions for manufacturing and packing powders, granulates, pellets, tablets, capsules, syringes and medical devices. Romaco also serves the food and chemical industries.
The Romaco Group has its headquarters in Karlsruhe (Germany) and is part of the Truking Group, a globally operating high-tech enterprise based in Changsha (China). Truking's core competency is handling and filling pharmaceutical liquids.
Romaco operates from four European business sites, with a broad portfolio comprised of six established product brands. Noack and Siebler (Karlsruhe, Germany) supply blister, heat-sealing and rigid tube filling machines. Macofar (Bologna, Italy) markets technologies for filling sterile and non-sterile powders and liquids. Promatic (also Bologna, Italy) specializes in cartoners, track & trace systems and case packers. Kilian (Cologne, Germany) offers compression solutions for tableting while Innojet (Steinen, Germany) is an innovation leader for granulation and coating.
More than 600 highly skilled and committed Romaco employees are dedicated to the development of future product technologies and to the continuous implementation of internal improvement processes. Romaco's multi-brand system solutions are sold worldwide through six Sales & Service Centres and a dense network of local agent organisations. Over 12,000 installations delivered by Romaco are currently in use in more than 180 different countries.

For more information about the Romaco Group, visit www.romaco.com