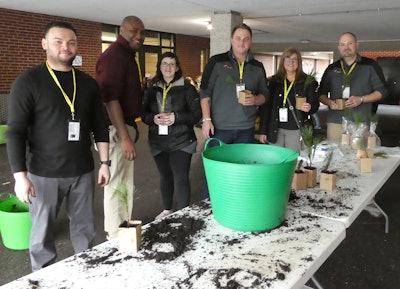 In honor of Earth Day, Colbert Packaging Corporation, a premier provider of paperboard packaging solutions, visited Elmwood Park Elementary School to teach 89 first grade students about the environmental benefits of trees and paper. In partnership with the Paperboard Packaging Council (PPC), employees from Colbert Packaging presented the TICCIT® Program, short for "Trees Into Cartons, Cartons Into Trees."
Trees are a critically important part of Earth's ecosystem. As a family-owned, paperboard packaging manufacturer, Colbert's sustainability commitment includes educating future generations and providing them with the same opportunity to thrive that their parents and grandparents have enjoyed.
"We plant trees with the kids to spark interest and personal connection to the environment," said Colbert Operations Manager Jeff MacDougall. "It may be a small act, but we trust it's one that will help to foster a sense of wonder and responsibility for this amazing resource." Led by Jeff MacDougall, the Colbert Packaging team included Rey Diaz, Ryan Jackson, Allison Halliwell, Tommy Senn and Wanda Speer.
The hands-on engagement activity gave students the opportunity to plant a sapling in a paperboard carton filled with soil to bring home."The children were fascinated to learn abouttrees and the many ways in which we use them," said Kathy Hagstrom, an Elmwood Park Elementary teacher. "They really enjoyed getting their hands dirty digging in the dirt and planting their saplings to take home!"
The program showed participants that the carton, planted directly in the ground, provides protection and a natural water funnel for the new tree. As the tree grows, the carton will break down and complete the "trees into cartons, cartons into trees" cycle.
The TICCIT curriculum teaches the next generation that trees are a sustainable crop, just like fruits and vegetables, and highlights the importance of recycling. In addition, TICCIT beautifies the community by increasing the number of trees planted. For more information about TICCIT, visit paperbox.org/TICCIT.
Companies in this article