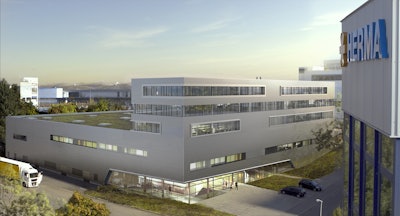 HERMA GmbH, a provider of labeling machinery and self-adhesive labels and materials to the global packaging marketplace, has moved its Labeling Machinery Division to a new state-of-the-art facility at its headquarters site in Filderstadt, Germany. A necessary response to recent growth and rising demand, the new plant will incorporate a more modern, streamlined production layout for maximized manufacturing efficiency.
The move also concentrates each of HERMA's divisions – Self-adhesive Materials, Labels, and Labeling Machines – in one location; this level of technology consolidation is an industry first, and reflects HERMA's commitment to smart, cross-departmental strategies and solutions.
HERMA's achievements in recent years – including a successfully launched American subsidiary, HERMA US, in 2016 – was a key impetus to the move's timing. On the heels of selling more than 4,000 of its signature HERMA 400 Label Applicator in 2018 alone, the company recently introduced the next-generation HERMA 500. With industrial-grade Ethernet connectivity, the IIoT-enabled machine utilizes real-time metrics to optimize production efficiency and consistency, even in a multi-factory setting. Capable of achieving labeling speeds up to 200m/min, the HERMA 500 can handle label widths between 80-320mm and roll diameters from 300–600mm.
Building upon its predecessor's best features, the HERMA 500 integrates Industry 4.0 connectivity and is exceptionally fast with an industry leading maximum speed of 650ft/m. The module also offers short make-ready time.
The latest facility expansion has yielded one of the world's most modern production facilities for labeling machinery. Its design encourages minimal throughput times via optimal access in the production area and, in preparation for continued growth, assembly stations are equipped to be double-staffed as needed.
The manufacturing centralization also serves to better support HERMA's self-adhesive technology efforts. In fact, HERMA is currently constructing a new coating plant for self-adhesive materials directly adjacent to the Labeling Machines facility. The new site is scheduled for completion in autumn 2019.
"The new facility reflects HERMA's rapid growth as a result of manufacturing success while positioning us for future expansion," explains Martin Kühl, head of HERMA's Labeling Machines Division. "All workflows are optimized with regard to ideal communication, minimal throughput times, and maximum manufacturing excellence."