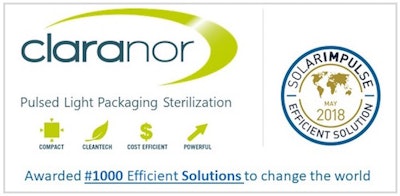 A coherence of vision: We need to move toward a cleaner economy
In 2016, Bertrand Piccard and his team achieved the first world tour with a plane powered by solar energy. Their aim: demonstrating around the world that green technologies can bring us far beyond commonly accepted limits, and thus represent a solution for the preservation of our planet.
Shortly after his incredible record, Bertrand Piccard and the Solar Impulse foundation launched the World Alliance for Efficient Solutions. Their objective is to identify and promote 1000 technologies bringing solutions in any industrial sector, enabling to combine ecology and economic growth.
Since the creation of Claranor in 2004, we are committed to bring to the beverage, food and pharma industries a sustainable alternative to the conventional (chemical or irradiative) packaging sterilization methods. Because it is high efficient, chemical-free, immediate, cost-saving, Pulsed Light technology is more and more considered as a smart and adapted alternative to former technologies.
We share important values with the Solar Impulse project and Foundation:
• Tenacity: like Bertrand Piccard, Claranor started in 2004, and we had to overcome several difficulties to demonstrate the efficiency of our solution
• Pioneer Spirit: we see applications of our technology beyond what is commonly admitted, and work to make them happen
• Team spirit: the common commitment, creativity, and expertise of our team members enables to reach our goals. We have also the culture of partnership, with machinery manufacturers, who integrate our solutions in their lines.
This is why we applied to the Word Alliance for Efficient Solution Challenge. In May 2018, the Claranor Pulsed Light Packaging Sterilization was awarded as Efficient solution by the SI foundation, with the #1000 efficient solution label.
This recognizes our contribution to build a cleaner world. This strongly motivates us to increase our efforts in this direction.
1/2
Thanks to their worldwide communication, Solar Impulse will accelerate the awareness about the availability of technological solutions to the major environmental problems we are facing.
Because of their incredible record around the world, Bertrand Piccard and his team have gathered the interest of millions of citizens and could make them aware of the interest of technologies to resolve environmental issues. They intend now to transform this attention into action: The Solar Impulse foundation will mobilize and inspire business leaders and key decision makers.
Claranor will participate in the next months to support the SI Foundation in their actions when needed.
Every drop counts
The Solar Impulse Foundation highlights that pioneering solutions, clean, efficient and profitable, will help proving to the world that it's not too late; everyone, government, businesses and institutions, have a role to play. At the end of the day, if everyone takes his part, it's not an overwhelming challenge.
So, let's pulse together for a cleaner future!