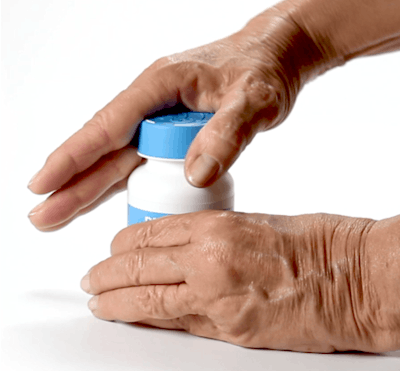 Berry Global has released an updated version of its PalmSoft™ child-resistant closure, designed to improve ease of use for patients and consumers with dexterity issues. The full thermoplastic elastomer (TPE) shell improves grip functionality.
The new child-resistant closure, featured at CPhI North America in 2018, adds a soft rubber-like feel to the top of the closure with an updated design allowing for expanded branding and design opportunities on the top of the closure. The new design also allows for a larger space for pictorial instructions to communicate more effectively with the visually impaired.
By inverting the orientation of the polypropylene footings (white arcs), the part slides on conveyors more easily, improving suitability for customer fill lines. The closure is suitable for a wide range of healthcare bottles including round and square packer bottles.
PalmSoft's platform allows for efficient graphic and color change-outs within the cavity design, allowing customer brands to refresh as needed. Logos, text, and graphic elements can be molded into the closure in a wide range of colors. PalmSoft uses bi-injection technology where two materials and two colors can be utilized for improved performance.
The initial 33-mm mold is planned to be available later in 2018 and the closure will eventually be available in three sizes (33, 38, and 45 mm) in early 2019.
Companies in this article