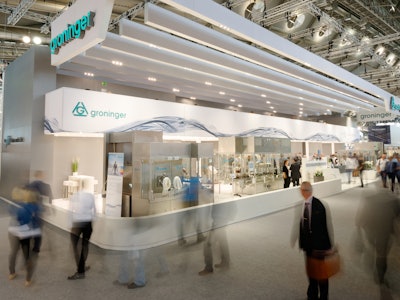 This is possible with groninger's new Business Line machine series, on show for the first time in all three business sectors on groninger´s booth A23 in hall 16 at this year´s Interpack. Another milestone in the company's history that takes the best of the best customized machinery concepts to create innovative standard lines. Faster and more flexible – and absolutely user-friendly thanks to the new Ready Engineered philosophy.
Ready Engineered is groninger's name for its standardized modular concept that offers cost benefits and the shortest delivery times. Decades of experience amassed by more than 1,100 employees have made this momentous innovation possible. Experience and innovation in the same breath? Howdoes that work…?
Speaking from experience is great. It means that you've already got to grips with a subject and that you've covered all the aspects. The southern German company groninger draws daily on this valuable experience of building sophisticated filling and sealing machines. For every day, its pioneering team of around 400 engineers and technicians breaks new technological ground. This experience, paired with inquiring minds and inventive spirits, turns today's hot topics into the best machine solutions engineered at Crailsheim, Schnelldorf and Charlotte (North Carolina, USA). They are used worldwide to process consumer products with maximum reliability and efficiency, either in terms of speed for mass production or flexibility to cut costs.
For the past 37 years groninger has specialized in filling and closing liquid pharmaceuticals, cosmetics and so-called OTC healthcare products which consumers can buy without a prescription. It thus ranks as one of the fastest-growing companies in the industry compared to other players in the field. Something to be proud of.
Proven technology for new cosmetic products
The Creme 60 is regarded as the forerunner of the successful groninger Business Line series. The system can produce up to 60 units a minute and processes cream jars, make-up bottles, airless pumps, mini-dispensers, mini-rollers and lotion bottles. Multiple variations and configuration options give engineers free rein in designing the machine concept which can be extended as required. Taking up only less space than other machines, the Business Line is very user- and maintenance-friendly. It can be easily accessed at all sides. As Markus Regner, Technical Manager at groninger explains: "Business Line is a holistic concept, an all-in-one solution perfected by us down to the last detail. It takes into account the entire life cycle of a machine, service, ergonomics, documentation, space and stocking. We keep a stock of all Business Line parts for just-in-time delivery. Customers thus enjoy absolute reliability and our already excellent reputation for service quality is even more enhanced."
This philosophy 'with a difference' mainly focuses on much shorter delivery times for the customer. The usual project time for a custom-built machine is well over a year, while the Crème60 is up and running at the customer's within four to five months. Months of planning and design are saved by the Ready Engineered concept.
Demand for flexibility also in the pharmaceutical industry
Managing Director Jens Groninger puts it in a nutshell: "Modular, flexible and even faster available – that's what tomorrow's machine concepts have to deliver. We took on this challenge and developed the solution."
Increasingly, presterilized objects are used in the aseptic processing of cost-intensive biotech products, where the trend is towards smaller batches. With this background, groninger developed the FlexPro 50 Ready-Engineered machine concept for presterilized nested ready-to-use syringes, cartridges and vials. Also from the Business Line and now live on the show-floor in Nest and Bulk versions for the first time, groninger as turnkey supplier has struck the right chord with many pharmacists.
By changing just a few size parts, nested syringes, cartridges and vials can be processed via FlexPro 50 in one line configuration. Movable interchangeable machine trolleys permit additional line configurations through to an integrated nest/bulk process line achieving outputs of up to 4,500 objects per hour.
FlexPro 50 allows various process stages to be performed manually or automatically to cover market and customer requirements. Aside from standardized coordinated line modules in a highly compact design, access to the machine modules at both sides is a major advantage for operators and permits full technical integration of the isolator modules and particle monitoring system. The concept saves up to 40% space compared to conventional systems.
Full integration of the air supply in the isolator permits air exchange with the ambient air - so no additional space is required in a machine room. The decontamination cycle has been reduced by around 50% compared to conventional isolators thanks to a newly developed direct injection system.
Ready engineered in the consumer healthcare OTC market
In its still relatively new Consumer Healthcare business sector, groninger combines current safety and sterility requirements from the pharmaceuticals sector with compact machine functions used in the cosmetic sector. The FlexCare 100 machine concept – based on the Business Line´s Ready Engineered philosophy - achieves production outputs of 60 to 120 objects per minute, depending on the diameter of the pumps. Given the variety of possible formats, three sealing types can be processed at the same time, including spray and crimping pumps, screw caps and many others. Importance was attached to safe transport and precision filling of glass or plastic pumps, which is why the drive and work areas are kept strictly apart. Optional 100 % in-process control (IPC) verification guarantees the high filling precision of groninger filling systems for every bottle. The streamlined LF-friendly machine design consistently complies with GMP requirements, enhanced by optimum accessibility and ease of cleaning. Exceptional flexibility and availability also ensures fast size changes of the few parts with no need for tools. Thanks to servo engineering the machine can be run with any number of different sizes at the push of a button. Hubertus Ritzenhofen, Sales Manager, Consumer Healthcare at groninger explains: "We are proud of the Business Line and the many benefits it brings for our customers. It is our answer to the latest changes on the market and closes a gap in our portfolio. Customers have to work flexibly and need flexible solutions to do the job. So our job is to satisfy our customers' needs and wishes."
Companies in this article