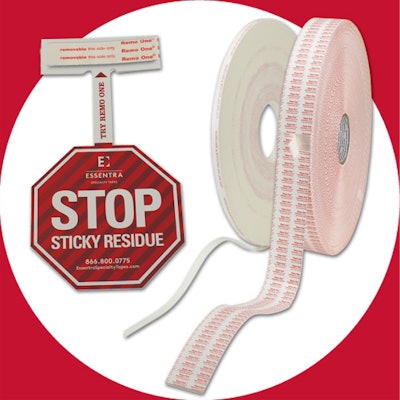 Essentra Specialty Tapes has announced the availability of Remo One®, a line of double-sided foam tape with one removable side. The unique chemistry of this adhesive system allows users to cleanly remove or switch out temporary signage, displays, and many other items without leaving any residue behind.
Remo One is designed to have a strong bond to most hard, non-delaminating surfaces. At the same time it can be removed cleanly without leaving any tape behind. The other side of the tape has permanent adhesive that holds firmly to the product.A flexible foam carrier in the center of the tape fills gaps, allowing irregular surfaces to be joined.
Remo One has many applications but is most commonly used with P.O.P. and retail merchandising displays where display components and temporary signs may need to be removed and/or replaced.The Thick Remo One Tape option can be used to create 3D effects, including attaching special or seasonal wobblers and violators to displays, or where a depth dimension is desired.Applications for Remo One also include promotional and temporary signage, single-use graphics, and bonding to uneven or textured surfaces.According to the vendor, this tape product has been used by the commercial printing and packaging industry for many years.
The Remo One product line is available in pre-cut pieces on a roll, or in pad form, individual diameters, and on continuous rolls.Thicknesses range from 1/32 in. to 1/8 in. for continuous rolls, 1/32 in. to ¼ in. for pre-cut pieces on a roll, and ½ in. to 1 ½ in. for the diameters. Thick Remo One comes in a range of thicknesses from ½ in. to 2 in.Widths vary by family, but the overall range includes ½ in. to 3 in.Lengths also vary: ½ in. to 10 in. for pre-cut pieces on a roll, 1 in. to 3 in. for Thick Remo One, and 15 ft to 900 ft for the continuous rolls.
Remo One tape has an application temperature range of 65° to 100°F and a service temperature range of -20° to 150°F. Available colors include white and black, and vary by product family.
Essentra Specialty Tapes maintains more than 200 part numbers in stock for immediate use.Product inventory is available at seven distribution centers located throughout the U.S. for quick and local access to products, including same-day shipments.
Companies in this article