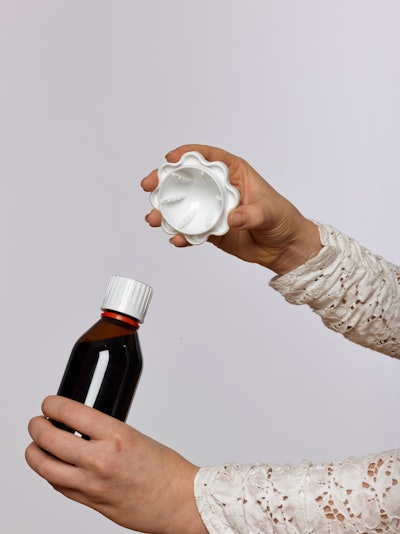 Gwalia Packaging Group has launched Top Twister, an opening aid for containers with either child-resistant or standard closures. The device fits closures from 20 to 38 mm.
Top Twister gives the user a large surface area where they can use the palm of their hand as opposed to their fingers to open containers. Top Twister also incorporates "push-turn" opening instructions, which are repeated in Braille. The device is a single piece injection-molded in polystyrene (PS) with six graduated gripping ribs on the interior and eight gently curved concave finger holds on the exterior. The PS gripping ribs, or teeth, engage with the softer polypropylene (PP) or high-density polyethylene (HDPE) outer surface of the closure.
As part of Top Twister's development, Gwalia commissioned testing of the device from the Wrexham North Wales−based UKAS accredited laboratory Davies Development and Testing Ltd. During the test, 100 adults ages 65 to 80 were asked to open a 50-ml cylindrical container. The bottle was capped with a 22-mm child-resistant closure. The panel was asked to open the medicine container without the Top Twister device and then, after a rest, with it. The opening device was scored on three levels: efficiency, effectiveness, and satisfaction. On all three levels the panel's performance was significantly better when using Top Twister, particularly among panel members ages 75 to 80.
Top Twister will be available in most retail stores this spring and is distributed by Gwalia's distribution partner, Oval Products Ltd.
Companies in this article