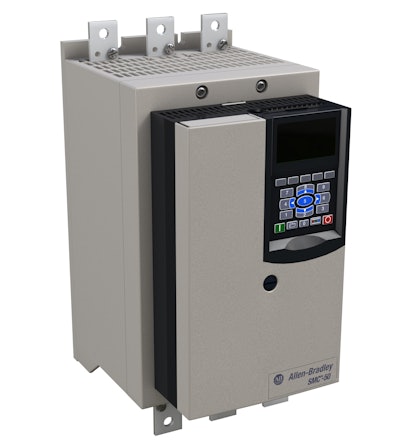 Rockwell Automation introduces the Allen-Bradley SMC-50 smart motor controller, the company's latest generation of solid-state motor controllers. This release includes a newly designed three-phase, fully solid-state, silicon-controlled rectifier (SCR) power structure.
The SMC-50 controller addresses the motor control needs of OEMs and end users seeking a more economical alternative to drives and more advanced control than across-the-line starters. Designed for customer flexibility, the SMC-50 controller combines advanced monitoring and protection features, multiple start and stop options, and expandable control inputs and outputs. These features help users increase efficiency, reduce downtime, and improve control.
Rated at 200V-690V AC and with software from 90 to 520 amps, the SMC-50 controller is ideal for controlling motor speed and torque in a range of normal-duty applications, including pumps, compressors, and short conveyors, as well as in heavy-duty applications, such as long conveyors.
The SMC-50 smart motor controller's design improves voltage output to maximize efficiency of motor starts and stops. For application scalability, it features nine standard starting modes, six stopping modes, and several slow-speed functions. In traditional starting mode, for example, if the SMC-50 controller senses that the motor has reached full speed before completing the selected ramp time, it will automatically switch to providing full voltage to the motor.
The patented linear-acceleration starting mode offers the lowest starting current profile per start, consistent acceleration time, and enhanced control over both torque and speed. Regardless of the starting mode chosen, the SMC-50 controller stores the actual motor start time and peak current value to assist in setup and process optimization.
Depending on the application, controlling voltage during motor stopping is equally critical to controlling voltage during motor starts. For example, the SMC-50 smart motor controller using the Allen‑Bradley smart motor braking feature engineered with automatic zero-speed shut-off, quickly stops a motor without the need for additional hardware or feedback devices.
To further protect motor assets and decrease downtime, the SMC-50 controller utilizes advanced power monitoring and diagnostics. This results in highly scalable user-configurable faults and alarms, including motor overload protection, over/under voltage, stall protection, over/under power, jam detection, over/under current, excessive starts, current and voltage imbalance, power frequency protection, power factor protection, and preventative maintenance faults and alarms.
The SMC-50 controller also includes an energy saver, motor winding heater, and the snapshot and event log features, which capture fault, alarm, and operational history.
The SMC-50 controller's combination of standard and advanced features combined with user programming options, scalable I/O options, and network-integration capabilities, provide motor performance and energy management.
Companies in this article