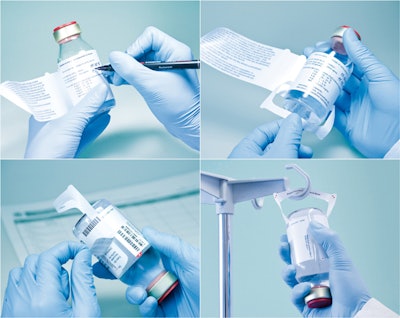 The new Pharma-Tac Plus label uses a multilayered design to allow sufficient room for detailed product descriptions.

The Pharma-Tac Plus label can help streamline and simplify the administrative processes of intravenous infusions. Upon opening the label's top layer, additional data such as current and expiration dates can be entered by hand. This is especially important when the contents of infusion bottles are only usable for a certain period of time once removed from cold storage, as is the case, for instance, with blood plasma infusions.

Another benefit of the Pharma-Tac Plus label is the incorporation of a hanger that can be separated from the bottom label and folded, allowing the administering caregiver to easily hang the infusion bottle on a bedside rack. The Pharma-Tac Plus label also features detachable adhesive parts that, when removed, serve to document an infusion in both a patient's medical records and the facility's blood transfusion records.

The new label recently received accolades from FINAT, the worldwide association of the self-adhesive labeling industry. FINAT honors the industry's top achievements via an annual awards competition. The Pharma-Tac Plus label was recognized in this year's "Innovation" category for its diverse functions, printing quality and overall design.
Companies in this article