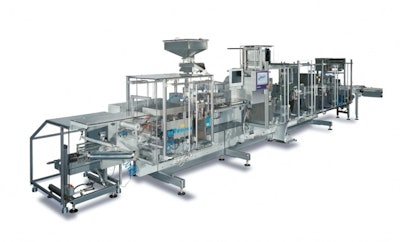 Complete with an integrated C2206 cartoner, the line will provide an output of up to 12,000 blisters/hr, in a range of blister sizes.

The line is capable of both multi-product blister processing and online blister printing (both flexographic and digital), addressing the need for enhanced patient compliance, while ensuring flexibility of supply.

Enhancing product compliance, the line will include a Total Quality Control Centre (TQCC) incorporating a checkweigher and integrated print and vision system for automatic rejection of incorrect print/serialization data, including 2D codes.

The blister line will complement the full suite of flexible packaging equipment already installed in the new Audubon facility. Supporting high-volume marketed products to niche/orphan drug launches, additional key technologies include bottling, walleting, and vial labelling/packaging.

Geoff Sloan, VP manufacturing operations, explained that the partnership with Uhlmann, one of the leading U.S. pharmaceutical equipment suppliers, was a natural choice: "Uhlmann was able to provide us with a versatile, high-spec blistering line to match our U.S. client requirements for a high-quality, flexible commercial packaging solution."

Ralf Klotz, Uhlmann's regional sales manager, added, "The construction and installation of this equipment proved to be a great project. We are looking forward to a long-term partnership with Almac as their U.S. operations continus to grow. The flexibility of this equipment certainly puts Almac in a position as a leader in contract blister packaging."
Companies in this article