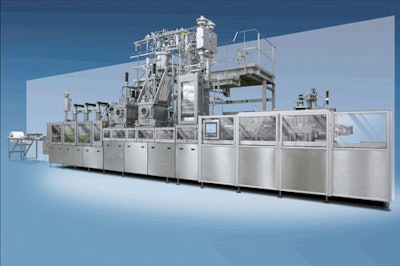 Specialists from Bosch presented new solutions for current trends in aseptic packaging. In addition, experts from Amcor, RPC Cobelplast, Rossi Catelli, Rohrer AG, as well as baby food specialist Bledina, shared their experiences with these innovations in various presentations.

The presentations indicate that there is a growing need from manufacturers for baby food and ready meals to be packaged in convenient plastic cups. Other key topics included lid films for baby food and dessert cups, advanced die cutting solutions for the processing of highly complex, flexible plastic films and updates on the multiphase sterilization process. Bosch presentations also highlighted how expert support services can help reduce downtime and achieve high levels of output.

"The aseptic packaging industry continues to advance in terms of technology improvements as manufacturers need to keep up with changing consumer needs. With our Aseptic Symposium, we provide a platform for idea- and expertise-sharing so manufacturers across industries can benefit," said Andreas Niemcewicz, Sales Manager Aseptic, Bosch Packaging Technology and organizer of the event. "In particular, Bosch continually focuses on enhancements in safety, hygiene and sterilization. Our aseptic thermoforming machines comply with international safety standards and have FDA (Food and Drug Administration) approval, helping manufacturers deliver high quality products."

The symposium participants viewed a range of aseptic packaging equipment at the Bosch plant in Waiblingen, Germany. All machines from Bosch guarantee high sterilization, filling accuracy and production efficiency. As part of the exhibits, Bosch presented the Servac TFA 4830 PP, its aseptic cup thermoform, fill and seal machine for the baby food industry. The automated machine complies to high hygiene standards and offers product security. Products packaged using the system maintain product shelf life for twelve months at ambient temperatures. The Servac TFA 4830 PP offers the flexibility to handle a variety of individual pack units and containers of different sizes.
Companies in this article