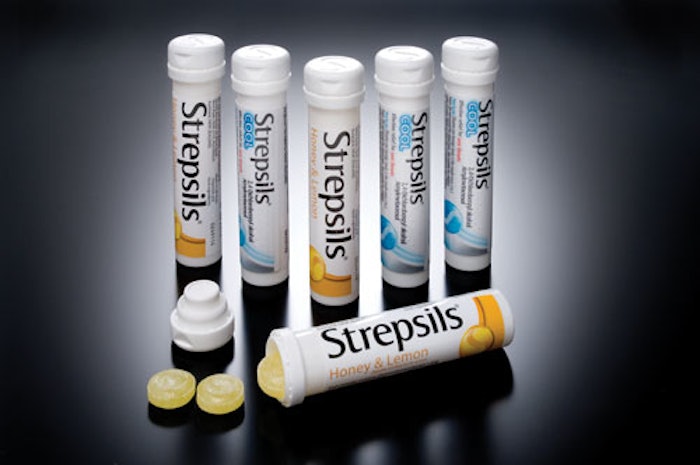 Reckitt Benckiser recently launched a portable "Handy Tube" version of its Strepsils line of sore throat lozenges to give customers a more convenient way to carry them. The product has been traditionally available in blister packaging, after being marketed in a tin box.
"Outside of blister packaging, we could not package Strepsils in just any plastic container," says Sarah Divanbeigi, RB's R&D manager for healthcare innovative packaging. "We had to have a package that is protective, while at the same time provided convenience of use and strong shelf appeal."
Because Strepsils is a moisture-sensitive product it was important for RB to choose a packaging configuration that would provide adequate humidity protection to the product during its shelf life. RB worked closely with
Süd-Chemie Performance Packaging
to adopt its tube and desiccant stopper package design.
Ten lozenges are tightly packed in each rigid high-density polypropylene tube to provide physical protection of the tablets during transport, as well as during storage in a pocket or purse. Since the HDPP tube and low-density polyethylene stopper are made with different thermoplastic materials, the package creates a perfect seal to maintain a dry environment for sensitive pharmaceutical tablets. Furthermore, the ergonomic stopper is soft and pliable, making for easy opening and closing for the consumer. The stopper features a chamber that is filled with a silica gel desiccant to keep the lozenges free from moisture, maintaining shelf life and ensuring a high-quality product. The stopper is also embossed with the signature Strepsils "S" logo to enhance brand equity.
Although Süd-Chemie can provide tubes already printed, the tubes are conducive to labeling. Strepsils Handy Tubes are labeled with the product's standard brand imagery as well as all necessary regulatory text as required by each market. Strepsils are made at RB's Nottingham, U.K., manufacturing facilities and packaged on its fully automated packaging lines. Specific details on packaging equipment and material suppliers were considered proprietary.
"The launch of Strepsils in the Handy Tube package format is our effort to make a great product even better for our customers, and the market is already embracing the new packaging," says Divanbeigi. RB identifies Strepsils as the number one brand worldwide for medicated sore throat relief, although it is not sold in the U.S.
—Jim Butschli, Editor
Companies in this article