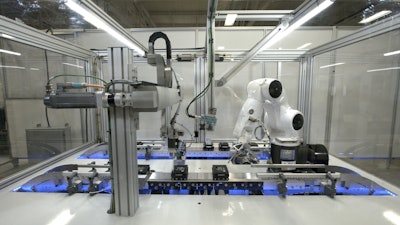 During PACK EXPO International 2018, Siemens exhibited a digital twin simulation in booth N-5747, aligning with the company's message of "Your Digital Story Starts Here" for the show. The digital twin is the precise virtual model of a product or a piece of equipment. It displays a machine builder's development throughout the entire lifecycle and allows operators to predict behavior, optimizing performance, and implement insights from previous design and production experiences.
Siemens' concept of the digital twin consists of three forms: the digital twin of the product, the digital twin of production, and the digital twin of the performance of both product and production.
There is tremendous value gained from performing "what if" scenarios and predicting future performance with the digital twin, according to Ajay Rana, Industry Business Development for Packaging at Siemens. The ultimate goal of the digital twin is in the closed-loop connection between the virtual world of product development and production planning with the physical world of production system and product performance. Through this connection actionable insight is gained from the physical world for informed decisions throughout the lifecycle of products and production operations.
Siemens supports the development of industrial machines with a full suite of CAD/CAM/CAE solutions and its popular PLM system, which also play a role in creating a digital twin. Siemens' MindSphere, the cloud-based, open IoT operating system enables industrial OEMs to link their machines and physical infrastructure to the digital world easily, quickly and economically, according to the company. They can harness data from virtually any number of intelligent connected devices, enterprise systems and databases to analyze and uncover transformational insights, enhance their offerings, and launch new business models.
"Many OEMs begin building equipment and cutting steel, but then, their customers want to make changes or the OEM determines the equipment won't work the way it was designed," Rana says. "That cuts into productivity and the OEM's bottom line. With a digital twin, the OEM can take the CAD drawing of the machine, insert data points, and simulate the equipment to ensure it works before cutting metal."
According to Seimens, throughput can be increased by 40%, costs can be reduced by 30%, and OEMs can accelerate development with a product Digital Twin.
Companies in this article