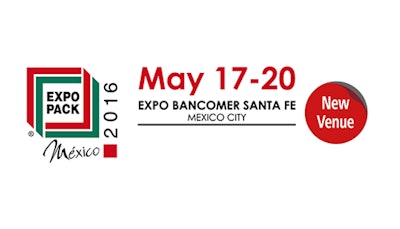 Long considered the premier event for processing and packaging technology in Latin America, the 31st edition of EXPO PACK México opened in a new venue today, the spacious and modern Expo Bancomer Santa Fe.
"We are very happy to be in this new home," said Gerardo Barajas, director of EXPO PACK before the show's ribbon cutting. "This change is mainly due to our desire to improve the experience of all of us gathered here, exhibitors and attendees.
The event from PMMI, the Association for Packaging and Processing Technologies, expects more than 25,000 qualified buyers representing food and beverage, pharmaceutical, personal care, chemicals, electronics, textile, and others. In addition to the 1,000-plus exhibitors over nearly 205,000 net square feet of exhibit space, EXPO PACK México hosts Packaging Week, organized by the Mexican Association of Packaging (AMEE). AMEE jointly conducts its National Congress, a complete program of conferences and an awards program. Seven associations partner in supporting EXPO PACK Mexico 2016, including AMEE, the National Chamber of Industry Canned Food (CANAINCA), the National Chamber of Industry Graphic Arts (CANAGRAF), the Chamber of Commerce and Tourist Services (CANACO), the National Chamber of the Pharmaceutical Industry (CANIFARMA), the National Chamber of Industry Cosmetic and National Association of Personal Care Products and Home (CANIPEC), and the National Chamber of Metal Packaging Manufacturers (CANAFEM).
This year visitors can do business with companies representing 20 countries with international pavilions including companies from Argentina, Brazil, Canada, China, Spain, USA, France, Italy and Taiwan. Now in its seventh year, the EXPO PACK Verde program, promotes and offers sustainable solutions and the Innovation Stages return for the second time in Mexico, offering a wide variety of free lectures on trends and technologies.
Barajas closed his opening remarks by reminding attendees that EXPO PACK will alternate between Guadalajara and Mexico City beginning in 2017.
"Hosting our show in Guadalajara in odd numbered years and Mexico City in even numbered years offers our unparalleled EXPO PACK experience to attendees in the western, the center and south regions of our country, as well as, the rest of Latin America," he said.