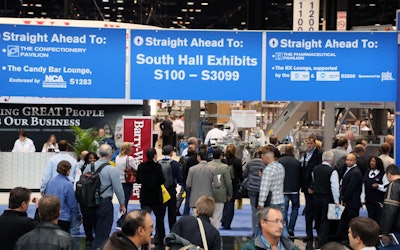 Packaging and processing professionals gathered in Chicago Oct. 28 - 31 for Pack Expo International 2012, the largest packaging and processing trade show in the world this year.
The four-day event covered more than 1.1 million net sq ft in McCormick Place, with 1,965 exhibiting companies—an increase of more than 6% for space and 7% for exhibiting companies from Pack Expo International 2010.
Pre-registration for Pack Expo was up significantly (nearly 10%) going into the event, however, Hurricane Sandy did have some effect on the final attendance numbers. Still, in spite of the storm, Pack Expo welcomed 45,338 attendees, an increase of 3% compared to the 2010 show. International attendance was up 8% from 2010.
Charles D. Yuska, president & CEO of Pack Expo owner and producer PMMI, says, "While we fully expected to surpass our attendance goals, the storm's effect on East Coast travel prohibited many from making the show. However, we still finished with the largest Pack Expo International since 2006."
The momentum from the Chicago show continues with exhibitors already planning their presence at Pack Expo Las Vegas, Sept. 23-25, 2013. Approximately 47,000 sq ft of booth space sold during the show in Chicago last week, bringing the current Pack Expo Las Vegas net square footage to nearly 560,000, more than 20% ahead of pace from 2011.
"Pack Expo International 2012 was definitely a success," says Yuska. "Traffic was strong, despite the storm, and the exhibitors I spoke with were very pleased with the number and quality of leads they received. I think it's also significant that exhibitors were already planning ahead and reserving booth space for PACK EXPO Las Vegas 2013."
PMMI
is a trade association of more than 600 member companies that manufacture packaging, processing, and related converting machinery in the U.S., Canada or Mexico; machinery components and packaging containers and materials.