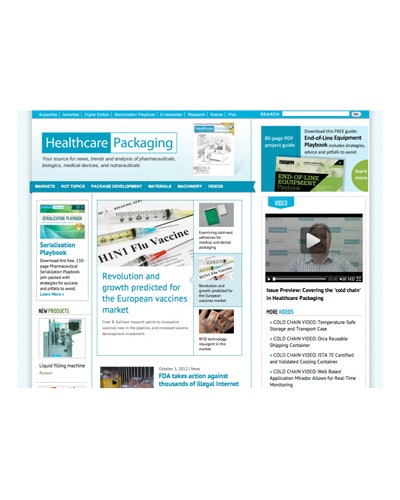 A year in the making, Healthcare Packaging has debuted a brand new Web site built from the ground up around the latest Web technologies.
A cleaner design makes the site easier to use, and most importantly, easier to read, thanks to careful attention paid to typography.
We have completely re-thought how we group content into categories, resulting in menu selections that are both easier to understand and more useful.
The related article function has been completely re-written from the ground up, allowing editors to carefully select articles that are much more related to the article you're reading.
Under the hood, the Web site is running on a modern Drupal 7 open source platform, with speed optimizations and fine-tuning to give the site a snappy and responsive feel.
Videos also get a boost, completing our transition to a modern, high-speed video serving platform that makes it enjoyable to watch videos with a minimum of buffering. And you can more easily see explore other videos from the video you're watching.
Finally, the site now has a state-of-the-art search engine that makes it easier than ever to find articles.
And of course, we are proud to debut the industry's most valuable guide to serialization ever offered, a 150-page PDF e-book jam-packed with strategies for success and pitfalls to avoid. Download it now.