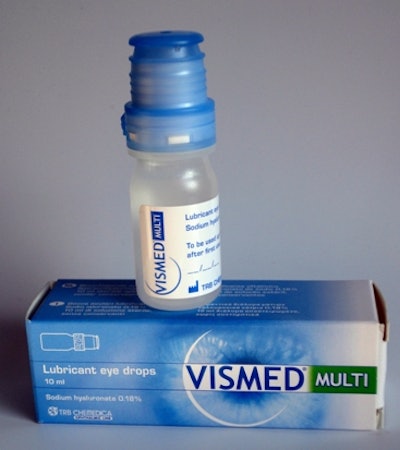 Headquartered in Geneva, Switzerland, TRB Chemedica describes itself online as "a medium-sized pharmaceutical company, with a focus on research, development, and marketing of innovative niche products in specific therapeutic areas, including rheumatology, ophthalmology, and neurology. We market a range of ethical pharmaceuticals and medical devices, most of which are patented, in more than 40 countries worldwide."
Recently, TRB Chemedica became the first to use of
Aptar Pharma's
patented preservative-free multidose Opthalmic Squeeze Dispenser (OSD) for VISMED® MULTI for the treatment of dry eye.
The device consists of six components including a protection cap, with a separate 10-mL low-density polyethylene container manufactured by a supplier in Germany. All of the OSD's plastic components are molded and assembled under
ISO
() 7 cleanroom conditions at Aptar Pharma's plant in Eigeltingen, Germany. Aptar says the OSD components are made of standard pharmaceutical-grade polyethylenes, polypropylenes, and thermoplastic elastomers. A high-grade stainless-steel spring, procured from a local manufacturer, is used to ensure the tip-seal function without contacting the formulation. A filter membrane is made of a double layer of
DuPont Teflon®
material.
According to TRB Chemidica," Dry eye patients instill regularly lubricant eye drops, and often for the rest of their life. Most of these patients are elderly and experience difficulties when using preservative-free multidose dispensers, since dispensing systems currently available do not offer overall satisfaction for eye drop delivery."
The Swiss firms says the OSD squeezable dispenser "is the result of more than 10 years of development for the delivery of preservative-free ophthalmic solutions," and that it delivers the following features:
• intrinsic intuitiveness of a squeezable container
• user-friendliness for all adult age groups due to a low actuation force
• precise and reproducible drop ejection
• ergonomic and pocket size design.
VISMED MULTI is made of a formulation of 0.18% hyaluronic acid with essential ions calcium, magnesium, and potassium, contains 10 ml of solution, equivalent to more than 250 drops, and remains sterile for up to three months after first use.
A press release on the announcement says, "the worldwide trend to use safe, patient-friendly, cost-effective and preservative-free multidose dispensers such as the OSD system underlines VISMED MULTI commitment to maintain its status as the gold standard in lubricant eye drops."