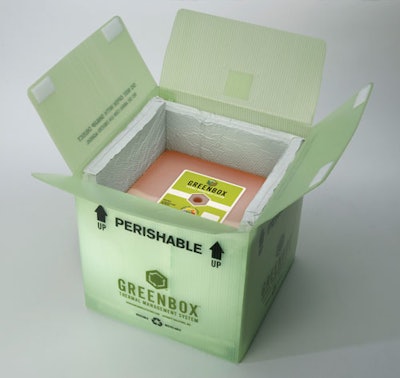 The first-annual Greener Package competition winners—which included eight in the Greener Package category, one in the Clean Manufacturing category, and one in Retail Leadership—represent the best practices in sustainable packaging from a range of industries, including food, pharmaceutical, personal care, and household care. Fifty-one entrants entered the competition, proving that economics were no barrier to innovation.
Critical to the credibility of the awards program, the Greener Package Expert Network—comprising packaging experts from across the value chain—designed the competition with categories and criteria specifically and uniquely suited to pack-aging sustainability.
Shipper for temperature-sensitive products
Pharmaceuticals, biologics, and blood supplies, and food products requiring carefully controlled temperature during distribution throughout North America, Europe, Australia, New Zealand, and Singapore are all potential applications for the Greenbox thermal management system from
Entropy Solutions
.
This Greener Package winner is touted by Entropy Solutions as the first temperature-controlled shipper to be "powered" by a 100% bio-based, nontoxic, and biodegradable phase-change material called PureTemp. The material is a specially engineered vegetable-oil derivative that controls temperatures to extremes ranging from as cold as dry ice to as hot as coffee. The patented phase-change materials simultaneously absorb and release heat. PureTemp is contained in "E-Packs," and as one E-Pack liquefies, another solidifies, providing a thermostat effect until the package reaches its destination.
Greenbox maintains a payload's temperature for more than five days and addresses the issue of product spoilage, which causes the life science industry alone more than $3 billion per year in lost product, explains Entropy. "Because it [Greenbox] can be shipped ground (versus overnight express) and is reusable, it helps customers save more than 65 percent on shipping and distribution costs," the company says.
Greenbox contains a hard, corrugated plastic outer shell, layers of Thermal-Lok™ insulation, and E-Packs. Each of these components is designed so that it can be switched out at the end of its useful life. Entropy says Greenbox is reusable more than 50 times, with "many customers experiencing use up to 100 times." That differs from more traditional shippers that use corrugated, expanded polystyrene, and gel packs. No part of the Greenbox should ever be landfilled, as all components are recyclable or biodegradable.
One Greener Package award judge summarized the package: "In addition to innovative materials and a system that minimizes product spoilage (in many ways the loss of product is a bigger environmental impact than single-use packaging and is rarely accounted for in LCA [Life Cycle Analysis] studies), the effort to set up a comprehensive return-and-reuse process represents an in-depth understanding of a systems approach.
"It would have been helpful to have more data regarding the full life cycle of the packaging material compared to standard materials, and a full LCA is recommended to further document this very clever approach's superiority."
Walmart's Specialty Pharmacy in Lake Mary, FL, and St. Paul, MN-based Memorial Blood Centers have both employed the Greenbox shipper.
Sustainable drug oval and CR closure
The amber, oval drug bottle for cough syrups and other liquids sold in pharmacies is one of the most recognizable containers in the pharmaceutical space. Now, however, there's an environmentally friendly twist with the Greener Package award-winning green or amber PET post-consumer recycled (PCR) drug oval with child-resistant Clic-Loc closure from
Rexam PLC
.
Introduced in October 2008, the bottle is "the first and only sustainable PET drug oval to the marketplace," according to Tom Ryder, director of marketing and product management for Rexam Primary and Rx Packaging. The PET resin (whose supplier is deemed proprietary) is stretch blow-molded at Rexam's Berlin, OH, facility into 2-, 3-, 4-, 6-, 8-, 12-, and 16-oz green or amber containers, the same sizes as the company's virgin PET line.
"We challenged our materials group to develop a 100-percent post-consumer recycled-material solution for application in our long-standing PET drug oval product line. The difficulties included identifying a resin that met all FDA and product performance criteria. Additionally, once we successfully identified the material solution, we had to overcome processing issues in the blow-molding process," explains Ryder.
The bottles meet light-transmission and moisture-permeation requirements set by the U.S. Pharmacopeia. The two-piece closure includes an outer high-density polyethylene and an inner polypropylene component and makes an audible click when opened. The closure provides child-resistant and senior-friendly properties.
Rexam sells bottles with caps primarily through the wholesale pharmaceutical distribution chain, but in some instances, direct to chain stores. The 100% FDA-approved PCR container represents a dramatic environmental improvement compared to using virgin resin. Ryder says virtually all of Rexam's customers are now using the PCR material.
Says one of the Greener Package judges: "100-percent post-consumer recycled PET resin for recycled ovals is a sustainable solution. The true measure will be to monitor the returned tonnage for recycling containers against production of this product to ensure that the market is committed to this initiative."
Comments another, "A major move to put ethical drugs into PCR PET. Wishful thinking, however, to believe that people will choose their pharmacies based on this packaging—their Rx plan, cost, and location will drive these choices. Also, while technically recyclable, the pigmentation will necessitate a downgrade to lower-value end uses."