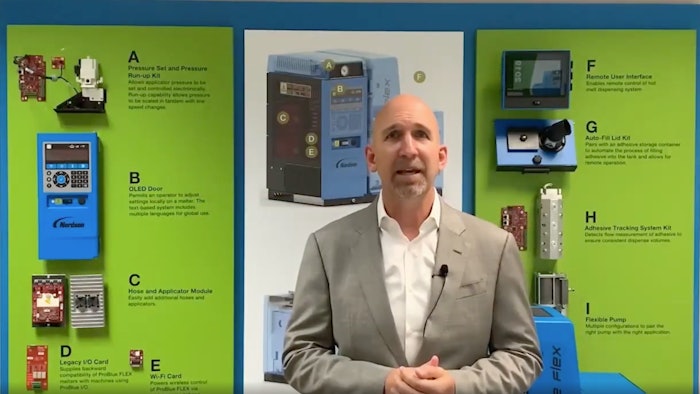 The ProBlue Flex melter from Nordson incorporates intelligent technology that enables dispensing accuracy. It was launched during PACK EXPO last year, but during PACK EXPO Connects this week, Nordson unveiled its new BBconn Controls, which allows for remote operation, more visibility, real-time oversight, and the data and analytics needed for continuous improvement for the ProBlue Flex melter.
This dynamic new platform opens the door to complete machine integration, which means users can now operate all equipment from a single interface. The BBconn control system allows Nordson's equipment to easily communicate with parent machines and other devices. The new platform's connectivity options fully support IoT and Industry 4.0 needs, including Nordson's new BBconn Cloud. 
The new ProBlue Flex melter is designed for drop-in compatibility; this means the size and shape of the new ProBlue Flex melter will fit into the same space allotted for the current system. The compact footprint of the ProBlue Flex melter ensures easy physical integration and the connectivity gained with BBconn control system allows for remote operation. This combination of a thoughtful physical design and an intelligent control system greatly improves the overall user experience. Full integration is achieved by using an automated filling system, remote electronic pressure setting, and one of the many remote user interface options. Industry-leading safety. The ProBlue Flex melter meets the highest safety standards for a complete touch-safe experience, according to Ron Ramspeck, product manager at Nordson Corporation, who presented the new technology during the company's PACK EXPO Connects live demo. The melter is fully covered, limiting exposure to hot surfaces, and offers optional lid-lock for additional protection. It features updated security elements, such as password protection, so the correct settings can be maintained without interference from individual operators. This ensures that safe pressure and heating settings are maintained whenever the melter is in operation. In addition, BBconn Controls, which allow for remote operation, eliminate the need to adjust settings on the melter itself. Almost all operations can be handled from the control panel on the parent machine or from a remote device. This limits direct interaction with the machine for the safest user experience yet.
Companies in this article