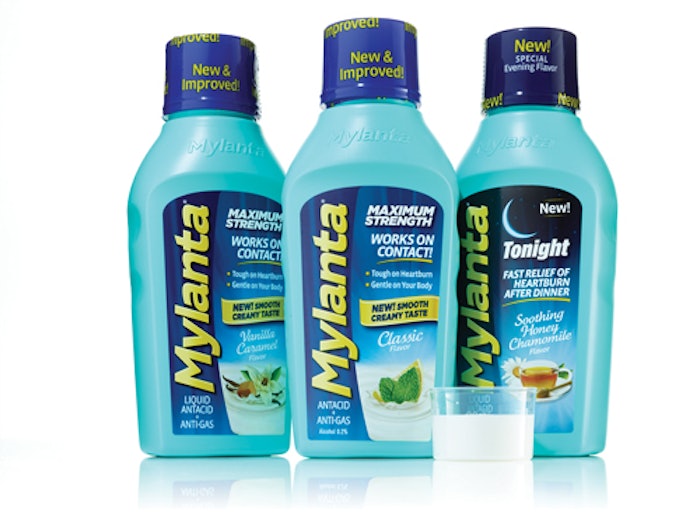 After a multi-year hiatus, the iconic antacid brand Mylanta is back, licensed by Infirst Healthcare Ltd. from Johnson & Johnson Consumer Inc. McNeil Consumer Healthcare Division. The new and improved Mylanta reached store shelves nationally in April 2016, in a refreshed package that embraces the latest consumer OTC healthcare trends.
Infirst Healthcare approached Berlin Packaging with a tall order: entice consumers back to Mylanta by updating the flagship 12-oz bottle; add convenience and ergonomic functionality; echo key elements of the original package design; and perhaps most importantly, convey the brand promise of fast, soothing relief.
Berlin Packaging's design subsidiary, Studio One Eleven responded with a custom high-density polyethylene bottle that builds on the Mylanta brand assets. The calming teal color is reminiscent of the original bottle, yet updated for a more contemporary feel.
The new extrusion-blown Mylanta bottles were contract manufactured by Berlin Packaging with Starplex Scientific.
The tapered bottle features indents on both sides for solid gripping. New to the updated package is a clear polypropylene dosage cup that snaps over the bottle cap; the cup is debossed with the Mylanta name to discourage unintended use as well as to ensure quick return if misplaced. The dosage cup is secured at retail with a heat-sealed overwrap.
The relaunched Mylanta bottle is now in distribution at dozens of retailers across the U.S. including Walmart, Walgreens, Rite Aid, Dollar General, Giant Eagle, Kmart, Kroger, Meijer, Wegmans, and many others. Its suggested retail price is $7.99.
Infirst Healthcare is also launching a new line extension, Mylanta Gas Minis. The gas-relieving mini-tablets can be taken on-the-go in its pocket-sized, tamper-resistant pop-top container from a European package vendor.With label graphics developed in-house, the packaging allows consumers one-handed convenience along with discretion and portability.
Mylanta recall
In late 2010, the U.S. FDA recalled 12 million Mylanta bottles and one AlternaGEL liquid product from the wholesale and retail level in the U.S. and Puerto Rico "in order to update the labeling of these products," said the agency.
FDA said, "JJMCP (Johnson & Johnson-Merck Consumer Pharmaceuticals) initiated the recall after an internal review revealed that information about the presence of alcohol from flavoring agents was not noted on the packaging. Certain flavoring agents contribute small (< 1%) amounts of alcohol. It is unlikely that use of these products will cause either alcohol absorption or alcohol sensitivity-related adverse events. This is a wholesale and retail-level recall and is not being undertaken on the basis of adverse events. No action is required by consumers or healthcare providers and consumers can continue to use the product."
At the time, J&J reportedly could have changed the packaging labels to be compliant from a regulatory standpoint and kept the product on the market.
In 2013, Denice Torres, McNeil Consumer Healthcare President, in an online message to consumers said, "We have been making changes to several of our manufacturing sites to make sure we bring you products, like TYLENOL®, for many generations to come. As we do that, there may continue to be supply disruptions for some of the McNeil products you use." Mylanta was as one of those products, with hygiene and quality control at a McNeil plant in Fort Washington, PA, cited as reasons why the product wasn't available over the counter for years.
Last year, J&J's McNeil Consumer Pharmaceuticals licensed U.K.-based Infirst Healthcare Ltd. exclusive rights to commercialize, distribute, and manufacture Mylanta in the U.S.
Companies in this article