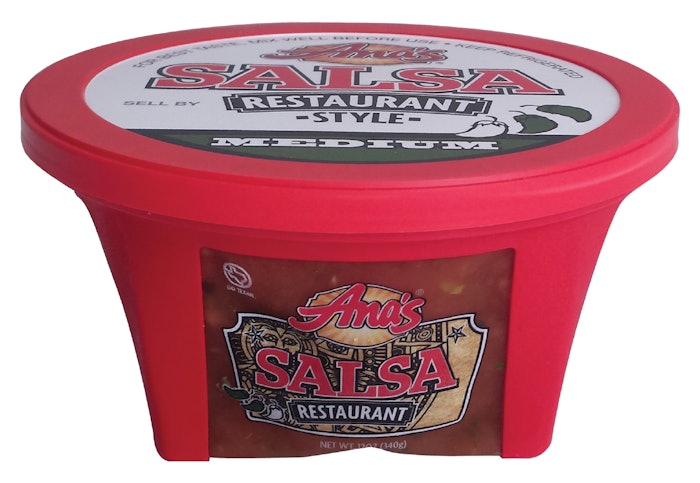 In looking for a replacement for its 16-oz rigid plastic salsa container, Ana's Food of Austin, TX, snapped up the chance to be the first commercial customer in North America to use a new injection-molded polypropylene container that combines both rigid and flexible material. In November 2014, Ana's launched its authentic Mexican-style salsa in IPL's SkinnyPack™ package, reaping benefits that include greater shelf appeal, stackability, and sustainability.
The project launched in June 2014 and involved collaboration between Ana's and IPL to bring the concept package to commercial fruition. The container is a square, injection-molded tub with flared sides made from rigid PP "posts." Four panels of flexible, printable PP material are fused with the posts during the injection-molding process to create the sides of the container. The film is labeled using the In-Mold Labeling process, with four-color labels converted by Precision Press.
Ana's objective in selecting the new packaging format was primarily around sustainability, explains IPL Product Manager Joel Sergerie, "given that the new SkinnyPack containers use less plastic versus regular tubs"—up to 50% in the case of Ana's. The lighter-weight tubs are also stackable, resulting in cost reductions in shipping and stocking. And, made entirely of PP, they are also 100% recyclable.
Sergerie explains that a PP construction was chosen for the application because it is certified for food contact and can be molded easily, without creating problems in the production process. The SkinnyPack uses a standard, 409-dia lid, which allows it to run on existing filling equipment; the format is also compatible with both pocket and conveyor belt systems.
Before the launch of the new tub, Ana's gathered consumer comments and reactions to the new container and found that 85% of those surveyed liked it and said it attracted enough of their attention to generate a purchasing intent.
Ana's Salsa in the new SkinnyPack package is available in a number of grocery chains, including H-E-B Grocery, Fiesta Market, Arlan's Market, and Market Basket, with more retailers to be announced soon. 
Companies in this article