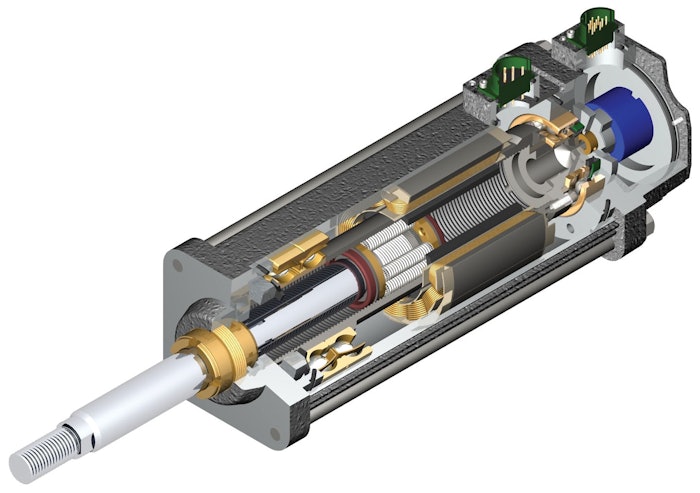 At packaging machinery OEM Osgood Industries, the preferred device for actuating the pistons driving the pumps that deliver yogurt and other similar products into their containers is a linear actuator consisting of a servo motor built around a planetary roller screw mechanism. Among the benefits delivered by this style of actuator is that Osgood machine designers and builders don't have to engineer the complete linear motion system. That is, they don't have to purchase the various components—motors, gear reducer, timing belt, mounting hardware, flexible couplings—and then assemble them to perform properly in a given application.


The GSX Series linear actuators specified by Osgood are from Exlar. Mike Weigandt, vice president and chief technology officer at Osgood, likes the compact form factor of the GSX Series.

"The fit of these actuators beats the alternatives hands down,' says Weigandt. "Screw and motor are one, so there's no need to couple a ball screw with a servo motor. It lets us have an actuator with a 10-inch stroke fit into maybe 13 inches of real estate. Other alternatives out there might require twice as much space, and a lot of times we just don't have that kind of room."

A series of machines that Osgood makes for ultraclean filling provides a good example of how the linear actuators are deployed. The machines in the series vary, but a typical arrangement would have filling nozzles arranged eight across and two in the machine direction; with each cycle, 16 cups would be filled.

"Depending on the requirements of the customer," notes Weigandt, "we may have one linear actuator for each nozzle or we may have some common drives such as one GSX for two nozzles and then one for four valves. It is configurable to let us customize it for the application and the budget for the project. We also use GSX actuators for the lid pick and place."


Aside from its compact dimensions, the other thing Weigandt likes about the GSX Series actuators is the screw design.

"It's like a ball screw but it delivers more torque," says Weigandt. "A ball screw can't touch it from the standpoint not only of torque but also reliability and long-term durability. On top of that, it's provided to us in a food-grade format—stainless steel, white epoxy paint, and washdown connectors for the servo motor itself."

The screw design Weigandt describes is Exlar's patented planetary roller screw technology. A specially designed roller screw mechanism converts electric motor power into linear motion. Planetary rollers assembled around the actuator's extending rod follow threads that are precisely machined into the inside surface of the actuator's hollow armature. Because this roller screw mechanism has an inherently larger cumulutave contact surface, these actuators have a longer working life and can handle heavier loads at higher speeds than is possible from a similarly sized unit based on a ball screw concept.
Companies in this article