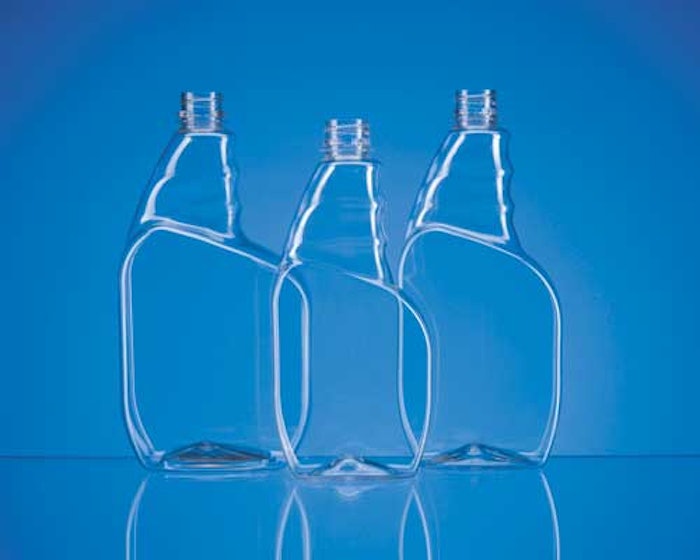 Now, customers can order as few as four pallets of three different Tremont sprayer bottles when they tag onto another order for clear bottles.

Alpha currently has samples in stock of the 16oz, 23oz and 32oz Tremont Sprayers with 28mm Ratchet neck finishes. To order samples, companies can visit the PET Tremont Sprayer page of the Alpha Packaging web site and select the sizes they are interested in.

Tremont Sprayers are manufactured using a 2-stage (reheat and blow) molding process. The minimum tag-on order for the 16oz Ratchet finish bottle is 9,216 pieces; the minimum tag-on order for the 23oz Ratchet finish bottle is 6,480 pieces; and the minimum tag-on order for the 32oz Ratchet finish Tremont Sprayer II is 4,608 pieces.

Alpha also offers these same three sizes in 28-400 necks. PET Tremont Sprayers with non-Ratchet necks will usually have higher minimums and may also have longer lead times than bottles with Ratchet necks. Custom-colored 2-stage sprayers with either the 28mm Ratchet finish or the 28-400 neck finish usually require a 50,000-piece minimum.
Alpha began offering spray trigger bottles earlier this year, when it acquired Progressive Plastics of Cleveland, Ohio. As Alpha integrate the Cleveland product lines into Alpha's stock product offering, it is adding select items to the Alpha web site, so customers can order samples of Alpha Cleveland bottles at the same time they order samples made at other Alpha plants. Alpha has about 750 stock items listed on its web site, and companies can search for PET, HDPE and PP bottles using the online catalog.
Companies in this article