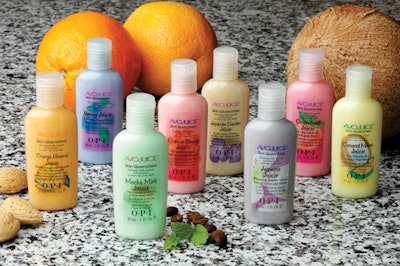 Born of a dental supplies business in 1981, professional manicure and pedicure products manufacturer OPI Products, Inc., North Hollywood, CA, has been bringing in business hand over foot since the introduction of its proprietary, chip-resistant nail lacquer in 1989. Since that time, owner George Schaeffer has expanded the company's line of fashion-forward nail colors and has introduced hundreds of complementary hand-, foot-, and nail-care products, to offer approximately 2,500 permanent stockkeeping units.
"We have a large research and development team," explains OPI vice president of operations Randy Allen. "Our owner is committed to being the best in the industry, to support the professional, and to give the professional every tool they need to do their job."
Over the past two years, OPI has invested heavily in new packaging technology—five new lines have been installed—to accommodate its nearly exponential growth.
Among the new installations is an Intrepid™ FC42 monobloc filler/capper from Capmatic Ltd. (www.capmatic.com) dedicated to packaging 1-oz lotion products. The line employs a unique bottle-feeding system for lightweight, plastic containers and is fitted with a Capmatic LabelStar® System 2/2 front and back labeler. Another of the company's new machines, an NM 700 tube filler from Norden (www.nordenmachinery.com), was installed just in time to rescue OPI from a capacity crunch for its expanding pedicure product assortment. While these two packaging lines will be discussed here, two more will be covered in an upcoming issue of Packaging World.
$1 million annually
OPI has its roots in an "Aha!" moment in the early 1980s. That was when George Schaeffer, president of what was then dental supply company Odontorium Products, Inc., recognized that the acrylics used to make dentures were similar to the materials used by nail professionals to craft acrylic nails. Partnering with a chemist, Schaeffer developed an acrylic system for nails based on the dental formulas, which he sold door-to-door to nail salons. In the late 1980s, OPI's first colored nail lacquer was introduced, and the rest, as they say, is history.
Today, OPI's nail lacquers and complementary products are sold throughout the U.S. and in 100 countries around the world. While it sells primarily to professional salons and to beauty-supply distributors, the company also offers a line of nail polish for the retail market—Nicole by OPI.
In the years since Schaeffer first cracked the nail industry, OPI's operations have grown from a two-room office to a 20-building complex that covers 200,000 sq ft on seven and a half acres in North Hollywood. And OPI is still growing.
According to Allen, OPI will finish this fiscal year with a sales increase of more than 30%, despite an uncertain U.S. economy. "We have hit recessionary periods before," he notes, "but one thing I have noticed is that the cosmetics industry really isn't that affected." Another factor contributing to the company's current success, he surmises, is its international sales, which are now close to 40% of its business.
To keep pace with growth, OPI invests "at least" $1 million each year in packaging equipment, including upgrades, new machinery, and maintenance, says Allen.
Feed system keeps bottles in line
In January 2007, OPI installed the model FC42 filler/capper to accommodate increased production of its Avojuice Skin Quenchers line of body lotions and Avoplex hand-care lotions. Avojuice, in a clear, 1-oz oval, tapered PET bottle, is offered in six ongoing "flavors," two promotional varieties, and one holiday flavor each year. Avoplex, in three formulations in the 1-oz size, is filled in the same style container, but the bottle is high-density polyethylene. Both containers are supplied by TricorBraun (www.tricorbraun.com), while the bottles' snap-top caps are supplied by Seaquist Closures (www.seaquistclosures.com).
Avoplex exfoliating cuticle cream, in a 1-oz, squeezable, low-density polyethylene bottle from TricorBraun, is also run on the line. The bottle's nasal-style cap and dispensing plug are supplied by Alico Packaging (www.alicopkg.com) and are hand-applied.
During Packaging Worlds's visit to the plant, OPI's Manicure/Pedicure by OPI Tropical Citrus Massage cream was running on the line in a 1-oz bottle for promotional purposes. According to Allen, OPI fills approximately 7 million of these 1-oz bottles on the FC42 filler/capper each year with assorted products for promotions.
Allen says he chose the FC42—the fifth Capmatic Intrepid monobloc machine installed at OPI—because of its accuracy, dependability, and flexibility. He also values his positive experiences with the equipment's supplier. "Capmatic has the best customer service and flexibility, and has the best footprint in their machines," he reports.
With each Intrepid packaging line installed at OPI, Allen notes, special engineering challenges had to be overcome to meet the company's high production speeds and specific packaging components. In the case of the FC42, the lightweight character of the 1-oz lotion bottle meant that a special system had to be designed by Capmatic to feed the bottles to the filler. "The bottle will not stand up on a moving conveyor unless it's full," explains Allen. "So we had to unscramble the bottle, upright it, and get it directly to a feedscrew or indexing wheel prior to filling."
The feed system begins with a bulk feed hopper, which is supplied manually with the 1-oz bottles by the operator. From there, bottles are carried upward by a bulk feed elevator to a custom Capmatic rotary unscrambler. Within the unscrambler, bottles are oriented onto a flat, horizontal conveyor that then splits into two chutes. The chutes carry the bottles single-file down toward the monobloc filler/capper and drop them two at a time into an indexing wheel, just prior to the filling station. "There is a lot of engineering in there, and it performs excellently," says Allen.
System boasts 95% efficiency
Once fed to the intermittent-motion monobloc, bottles are indexed two at a time to the filling station, then the capper, and then the cap torque station. The Intrepid is equipped with an Allen-Bradley PLC from Rockwell Automation (www.ab.com) and Festo (www.festo.com) pneumatics. As it was originally designed, the filler comprised two stations: One filled the bottle half way, the other topped it off. For the sake of speed, Allen explains, OPI's mechanics altered the machine, removing the priming station, so that filling is done in a single step in a bottom-up fill process. This has increased production speed from 80 bottles/min to 90+/min, with a 95% or greater efficiency "at all times," Allen relates. This results in the production of more than 30,000 bottles/shift.
To feed caps to the monobloc, Capmatic supplied a 4-cu-ft hopper that uses a bulk feed elevator to carry caps to a vibratory bowl. Accessible from the front of the machine, the hopper makes it simple for a single operator to feed caps at longer intervals.
After bottles are discharged from the mono-bloc, they are carried by conveyor into a starwheel. Positioned underneath is an A200 small-character ink-jet printer from Domino Amjet (www.domino-printing.com) that places a batch code on the bottom of each bottle as they pass overhead. Bottles then proceed downstream to be labeled simultaneously on front and back by a Capmatic LabelStar System 2/2 pressure-sensitive labeler. The stepper motor-driven machine features two labeling heads and a synchronized top hold-down belt.
Labeled bottles exit the conveyor onto an accumulation table, from which two operators pick product and pack it into trays. Only one additional operator is needed to oversee the line. As far as line changeover, Allen notes that it is a simple, 5-min process that involves switching to a new product hopper and fill nozzles, as well as changing the label on the LabelStar.
Tube filler meets increased demand
OPI has also added to its tube-filling capabilities to accommodate its growing pedicure line. Six years ago, management recognized the growing popularity of spa-type salons nationwide, and jumped feet first into the pedicure products market. Today, its foot-care products bring in approximately $6 million to $7 million in sales per year.
In March, OPI installed a Norden 700 tube filler to keep up with demand for its Pedicure by OPI and its Feet by OPI foot-care products. Before OPI acquired the 700, it was forced to operate its existing Norden NM 602 tube filler at capacity over two shifts to meet production goals. "I had to have another machine quickly," Allen recalls. "So Norden had this machine [the 700] delivered to us from Sweden in 90 days, which is unheard of in the industry. And, it has a custom application! It's working beautifully."
The NM 700—which joins an NM 602 and an NM 250 semi-automatic tube filler at OPI's facility—was selected, Allen says, because "Norden's tube fillers are the best in the industry when it comes to quality and dependability."
The line is filling 4.2- and 8.5-oz Pedicure by OPI products, 1-oz oil products, and 1.7- and 4.2-oz lotions. Coextruded tubes are primarily sourced offshore and are supplied to OPI with an induction seal in place and the cap applied. Because of seal-quality issues related to tubes sourced offshore, OPI added a custom-designed tube-squeezing station to the line that tests the seal strength of the final, filled package. Upon discharge from the NM 700, tubes are carried by conveyor through a belted pinching system to make sure they are properly sealed.
Small footprint reduces footwork
During operation of the NM 700, tubes are placed horizontally by the operator into a feed manifold that holds approximately 90 bottles. Each tube is then fed down into a tilting station, where the tube is individually tilted and pushed, cap-side down, into an awaiting puck. The puck, affixed to a racetrack style-configuration conveyor, indexes the tube approximately four positions forward to an orientation station. There, a sensor checks an identification mark printed on the tube and adjusts the tube to the proper position for filling and sealing.
At the next station, the tube is lifted up and is filled with product from a volumetric piston filler fed from a hopper above. Once filled, the tube is indexed to a sealing/crimping station, where the open end is sealed and receives a simple crimp, with an integrated batch-code number. At the last station, the crimped edge is trimmed, leaving a straight, clean line on top of the tube. The filler is integrated with controls and a PLC from Elau (www.elau.com).
After discharging from the machine, the tube moves through the custom tube-seal tester and then to a packoff station, where operators manually place the tubes in cartons or in trays.
Says Allen of the unit, "The NM 700 is very simple and has about a five-foot-square footprint. While it is rated at 80 pieces a minute, we are getting in excess of that now."
Allen says that as he looks back over the successful installations of these new machines, OPI's relationship with its suppliers has been a key component. "We do business with these companies at times on handshakes for very large projects," says Allen. "Our word and their word is worth more than any piece of paper we could ever sign. There is a lot of respect on both sides."
Companies in this article