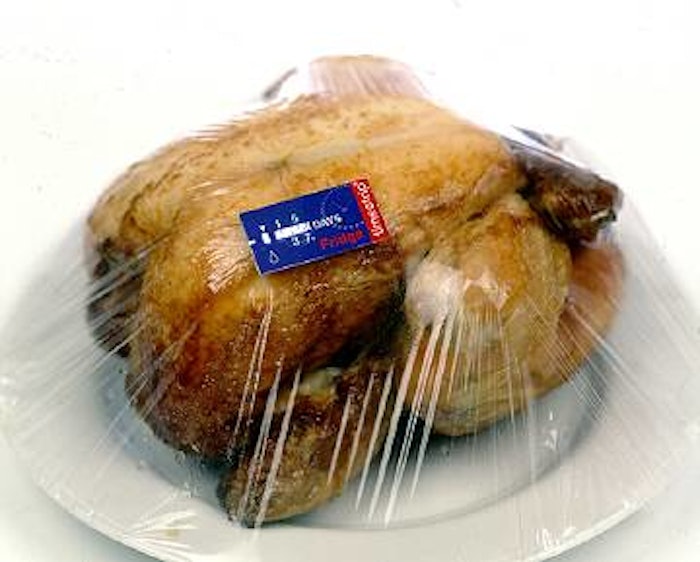 Poised for introduction in the United States, Timestrip pressure-sensitive tags function more like a clock than previous time-temperature indicators. Rather than an enzymatic or other reaction, they are based on the capillary action—or diffusion—of an easy-to-read colored indicator over time. The tags can be used on any perishable products or so-called nonperishable foods like retorted products that have a limited shelf life once opened. The tag would eliminate the guesswork of how long a jar of mayo, for example, which is shelf-stable until opened, has been left in the refrigerator.
Activation mechanism
The user depresses a small reservoir that releases the liquid within the Timestrip and basically starts the clock as the red liquid diffuses across the chart, according to inventor and president Reuben Isbitsky. Tailored to the application, frozen or refrigerated, the indicator color (typically red) moves across a printed scale. The Timestrip indicator is available in other colors, such as for medical applications, Isbitsky says.
Favorable response in the UK
Timestrips have been available for purchase directly by consumers in the United Kingdom since April 2004. A clamshell pack of 10 Timestrips sells for the equivalent of $1.85 in UK stores like Morrison's. It is available in two-month frozen or seven-day refrigerated versions with a two-week refrigerated version set to launch, Isbitsky says, adding that the response has been very good. "Consumer are confused by use-by or freshness dating," he points out. "This is clear to see."
In U.S. foodservice
In the U.S., the Timestrips are set to debut in Q1 2005 under the brand name Cooler Strips for sale to foodservice customers through distributor DayMark.
Operators can attach the 3/4''x1 1/2''-pressure-sensitive labels to opened food packages upon refrigeration. Two-, three-, and five-day expiration refrigerated (40 degrees F) tags will be available, Isbitsky says. The largest pack size will be 100 Timestrips. Pricing has not been set.
Next are toothbrushes
The introduction of Timestrip in a prepackaged application is imminent in Europe where the indicator will debut integrated to the handle of a toothbrush "so consumers can see when the three months have elapsed and they should change it," Isbitsky says. The consumer activates the indicator when they hold the handle to use the toothbrush for the first time.
Isbitsky tells Packaging Insights that half of the interest in the technology is for packaged goods applications. In fact, he's working with food manufacturers for automatic application on high-speed lines. He says the cost in high-volume applications would be a few cents each.
Companies in this article