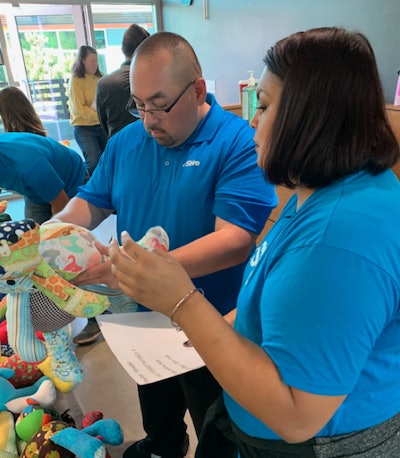 Employee engagement was on the rise in 2018."Compared with business units in the bottom quartile, those in the top quartile of [employee] engagement realize substantially better customer engagement, higher productivity, better retention, fewer accidents, and 21% higher profitability, reported Gallup's Jim Harter, who described engaged employees as involved in, enthusiastic about and committed to their work and workplace."Engaged workers also report better health outcomes."
And it's no secret that engaging patients can positively impact health outcomes. But the connected supply chain linking healthcare manufacturer and patient hasn't quite arrived.
Uniquely positioned as both patient and producer of a therapy, Malisa Rust, Associate Director at Shire, embarked on a mission to empower the people she works with at her manufacturing plant and the patients they serve.
"What got me started on this road was my personal journey. I've worked at Baxter, Baxalta and Shire for 12 years. After starting at Baxter, my dad was diagnosed with Alpha-1 Antitrypsin Deficiency [a hereditary and progressive condition that affects the lungs]. It was ironic to work at the plant that manufactured his treatment," she says.
Ultimately, Rust was diagnosed with the same condition. She notes, "A lot of individuals come to work and manufacture but they don't know the why. So I really wanted to focus, not on metrics and making sure we were in the green, but that the patient at the end of the road has a safe and effective drug and no interruption in supply."
Initiating the effort
She reached out to employees at the Los Angeles plant to start a local patient connection group and began with four individuals from different groups at the facility. All shared the same interest in reaching patients, and the group developed a vision and mission statement. "From there it grew. We have over 30 individuals with four workstreams now. They come from different areas of the plant and shifts, and we have members outside of the plant as well. It's really taken off."
The four workstreams include:
Business resources, which collaborates with the other groups as needed.

Education to inform employees on all shifts about the disease states and the drugs manufactured by Shire globally. The team offers lunch and learn meetings, web conference sessions and email outreach. They created a calendar, and whenever possible, they recognize a given disease in the month that an accompanying non-profit has selected as the awareness month. They also partner with Shire's global medical affairs group to bring in MDs and those with a scientific background to come and educate employees in-depth.

Off-site activities, which handle community events such as awareness walks, making breakfast at the Ronald McDonald house, WeSpark and more."What we decide to be involved in has to have a direct connection to the patient population," she says.

RARE Bears, a program from an organization called RARE Science. Patterned stuffed bears are made for children with rare diseases, and each bear has a unique identifier. The non-profit is creating communities of kids with rare diseases, supporting kids and their families. "They want to accelerate therapies for rare diseases—getting these kids sequenced, looking at therapies we already have, seeing similarities between emerging and established diseases and seeking to utilize therapies already on market for new diseases."
So for someone starting out, what should a successful outreach plan look like at their manufacturing, packaging or supply chain operation?
Rust has a two-fold view. "In general, a successful program should focus on breaking down the barrier for patients. A lot of the time, speaking from my own experience, doctors may come in with an ego and tell you what to do. Sometimes patients get scared. They don't want to ask questions and it's not collaborative. When patients aren't willing to listen to the doctors, they're not going to voice that, they're just not going to take the medication, and try to figure things out themselves. Let's talk about hemophilia: there are patients that still have bleeds even though the medication is out there, but they're not being allowed to collaborate with the doctor, so they don't feel like they have that buy-in."
From a work perspective, a successful outcome she strives for is for individuals at work to feel a purpose in coming to work, not in terms of a bonus or metrics, but in making a safe, effective product and getting it to the patient. She has a pragmatic approach. "It's ok to have a bad day and to be upset. It's not about coming into work all smiles all the time, we all go through that. But understanding what our purpose is and the importance of what we do, though we may not see the patient or know their name."
Rust aims for an event once per month either on- or off-site, and also has a patient speaker come biannually. (She notes that these are arranged through corporate compliance, medical, regulatory and legal teams.)
Start with the team
Whether you're a manufacturer, contract organization or part of logistics, she says it's important to start by finding a team of individuals at your facility who are like-minded and start brainstorming. "The possibilities are limitless. Our first event, we worked with a local doctor and had them come educate our staff on dry eyes and eye health. Beyond the disease state, it was about protecting our own eyes, too," she explains.
Always maintain empathy in working with patient advocacy groups to empower individuals. People may be at different places in their journey as a patient—being open and supportive when working with patients is key. Rust adds, "I can speak to that personally, being more comfortable to share my story at times versus not sharing at all. And from a work perspective, it's been very engaging. It's been great to really connect the dots and see the bigger picture and understand what we do and why we do it."
Bottom line
"I think programs like these increase quality because there's a patient at the end of the road—or supply chain. It's not someone pushing because of timelines or cost savings. Ultimately, you'll achieve the money savings and innovation in your operations because people are helping someone else. When you change the dialogue, and make it about someone else and helping other people, people don't say no to that. When you're trying to motivate someone based on 'unless you meet this metric, then XYZ,' there's no intrinsic motivator to be connected to that quality product or outcome."
Sidebar: Patient adherence
"My long-term goal is to have patients, providers and drug manufacturers work together. Collaboration is so important. From a manufacturing perspective, we could be producing the best drug on the market as an injectable, but the patients want to inhale it and use a nebulizer. If we could understand each other's' needs, we could go a lot farther. I've read articles and studies where although the patient has been diagnosed with this disease state, they may not adhere to the treatment plan. It's about working together and having ownership and buy-in from all parties. In the long run we'll be more successful," says Rust.