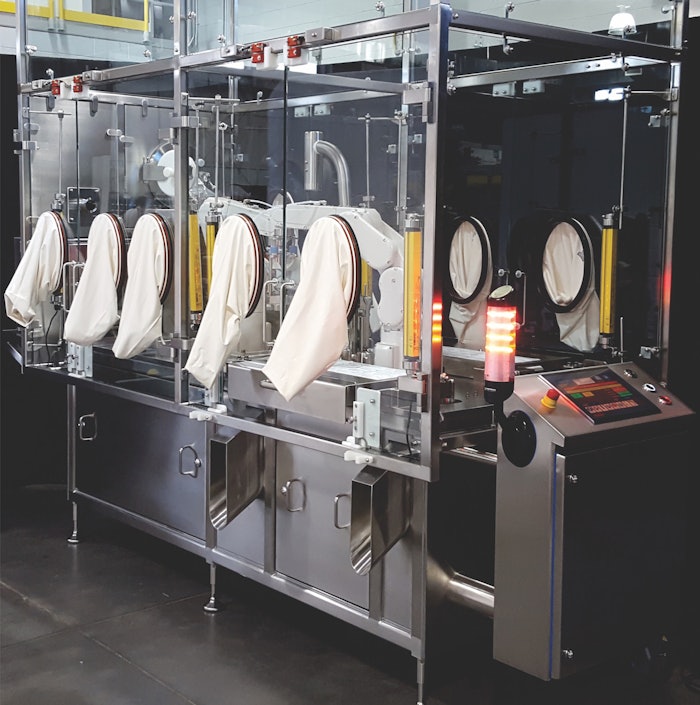 It wasn't that long ago that packaging robots focused on end-of-line functions, such as case packing and palletizing. In December, ESS Technologies introduced its TaskMate Robotic Syringe Filler and Capper. The system integrates two Fanuc clean class LR Mate robots with a Restricted Access Barrier System (RABS) from Skan to meet the stringent requirements for 503B sterile pharmaceutical compounding applications. ESS designed the system to increase production speeds and efficiency, reduce scrap and rework, and reduce overhead while protecting both products and employees from harm. The system can fill and cap up to 15 syringes/min.
The SF20 syringe filler is part of the TaskMate Robotic Systems brand. In operation, empty syringes are manually fed through a sterile rapid transfer port into the ESS-supplied vibratory hopper, dropping them gently onto a flex feeder with a powered, backlit, vibratory conveyor. A spreading tray/vibrating conveyor moves parts forward to a Fanuc 2D guidance vision system where the first LR Mate 200iD robot picks syringes one at a time. When no parts are available, the robot will turn the spreading tray on and signal the vibratory hopper to feed additional parts. Once the camera sees available parts again, the conveyor and vibratory hopper stops. The robot, which uses a custom-designed vacuum-style end-of-arm tool (EOAT), picks a syringe from the flex picker conveyor and transfers it to the filling station.
The filling system uses a stainless-steel, servo-driven volumetric pump, which is provided with an input connection to attach the filling nozzle to the product supply bag. A precise amount of liquid is dispensed from the bottom up. Caps are manually fed via a drawer that can be pulled out from the RABS to load and unload trays of caps. The second Fanuc LR Mate 200iD robot, which also uses a custom-designed vacuum-style EOAT, picks a cap from the tray and places it into the torque station. A servo-driven pick-and-place unit transfers the syringe from the fill station to the final torque station.
For screw-type Luer-Lok caps, the system rotates the cap to apply torque. A precision force sensor detects the correct amount of torque and supplies a pass/fail signal to the system. The capping system handles both press-on and tamper-evident Luer-Lok screw-on caps through the use of change parts. The robotic system discharges the filled and capped syringes via a divided gravity chute to a customer-supplied discharge bin. In the event of a station error, bad syringes get discharged via the opposite side of the chute for customer inspection.
Control and automation advances
With such complex tasks, it's understandable that controls and automation are essential to the efficient performance of the TaskMate equipment. "Controls and automation technologies are constantly improving. The availability of new technology for detecting and acquiring parts opens up new opportunities for handling product and allows our systems to operate more efficiently," says Mike Morgan, electrical engineering manager for ESS. "For instance, advances in vision technology allow for more precise detection and positioning of products in robotic guidance applications. New technologies and updates in industrial safety standards also allow for collaborative robot design to allow operators to safely work around robotic applications without stopping equipment—in some cases without the use of guarding at all. Advances in robotic technology also allow for greater speed, precision and payload capabilities."
The recent addition of hygienically designed components also provides benefits to equipment that wasn't possible in recent years, notes Kevin Browne, ESS president.
Specific robotic systems
The key controls and automation systems related to the Fanuc robots are within the Fanuc controller that executes the required program and directly controls robotic function. Below is a listing of the key components used for the ESS robotic system:
ESS notes that another key OEM involved with the development of the SF20 is Skan. "While not an automation vendor, they provide the Open RABS used on the system," Vest says. "Working with Skan to develop the RABS, ESS has developed a user-friendly system that can be more easily managed through the glove ports thanks to their extensive worldwide experience in RABS and the isolator market."
Companies in this article