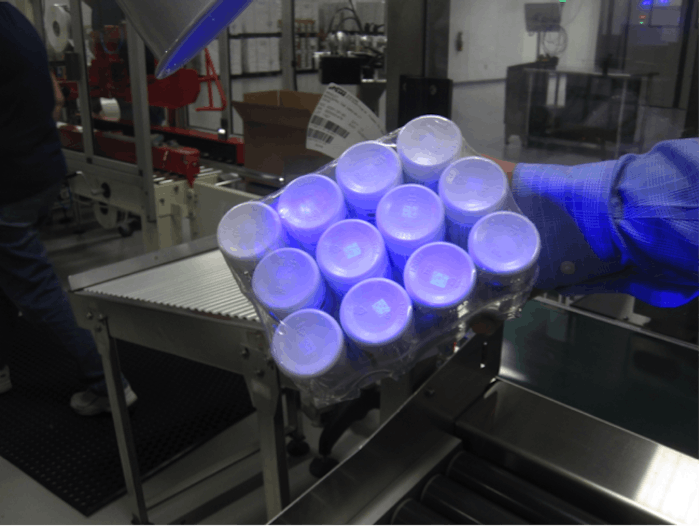 In the face of looming Drug Supply Chain Security Act (DSCSA) regulations, many pharmaceutical manufacturers are looking for ways to begin or enhance their serialization efforts. Apace Packaging, a leader in OSD contract packaging, hosted a first-of-its-kind Serialization Event for healthcare professionals last Thursday in Bowling Green, Kentucky.
The daylong event was created to help Apace's customers develop their own serialized lines by gaining insight into how Track & Trace, warehouse, and IT solutions fit together to deliver a comprehensive solution. Attendees from many pharmaceutical companies, including Sandoz, Quinn and Qualitest, gathered for educational presentations from Oracle, ROC IT Solutions and Optel Vision, followed by an Apace plant tour to view the fully serialized packaginglines in action.
The morning began with a welcome from hosts Patrick Ferguson, General Manager at Apace, and Frank Guthrie, Director of Serialization & Operations. They gave an overview of the implementation process - from vendor selection and training to where they've found success - candidly discussing the challenges they faced. "Because not all products require serialization right now, we needed solutions that were flexible enough to accommodate full, partial or zero serialization," Ferguson explained while discussing solution requirements, adding, "We also wanted established vendors that we could count on to call at 2 am for troubleshooting if the need was there."
Serialization Event Highlights
Serialization and Tracking: Oracle's Karla Biggs-Gregory talked about how Apace uses Oracle Pedigree & Serialization Manager (OPSM) to manage serials and provide traceability within the supply chain. When combined with warehouse and packaging activities, the solution allows Apace to streamline supply chain integrity operations, including, but not limited to, generation of serial ranges, creation of packaging hierarchies, and tracking events using OPSM's EPCIS Repository capabilities.
Packaging: Jean-Pierre Allard discussed how Optel Vision's solution enables Apace to keep their blister and bottle lines running smoothly with serialization, inspection, labeling, and aggregation technology, along with user-friendly software design.
Warehouse: ROC IT Solutions' Larry Hall reviewed how GS1/EPCIS compliant data capture and tracking solutions such as OPSM allow individual items to be tracked throughout Apace's supply chain. He explained that ROC IT's products aren't meant to replace a WMS, WES or MES, but instead enable these to work with serialization, allowing companies to integrate serialization into their existing warehouse framework.
Plant Tour: After the presentations, guests toured the Apace facility, viewing serialized bottle and blister packaging lines as well as the ROC IT EdgeTRAC™ Solution in the warehouse. The experience was unique in that serialization experts were present to answer guests' questions as packaging took place.
The event concluded with dinner at the nearby National Corvette Museum. Overall, attendees from a diverse set of disciplines, such as Engineering, IT, Quality, and Operations, found the event to be a great educational experience. One participant remarked, "It's been really interesting to see what they're doing up-close, and to be able to compare it to our operations."
Apace has grown significantly over the past 5 years, and is now serializing 100% of one customer's products (about 75% of the plant's output). "We've learned a lot over the course of our implementation," says Guthrie, "and now we're happy to be in a position to educate manufacturers on what we've found that works." Apace continues to be a leader in the contract packaging industry by providing a DSCSA-compliant, fully aggregated serialization solution to its customers.