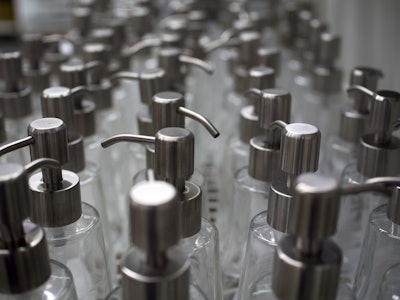 Michigan State University's Antimicrobial Resistance Learning Site defines an antimicrobial as "any substance of natural, semisynthetic or synthetic origin that kills or inhibits the growth of microorganisms but causes little or no damage to the host."
Diving deeper, the site notes, "All antibiotics are antimicrobials, but not all antimicrobials are antibiotics."
An online article posted Oct. 31, 2014 at the European Medical Device Technology's site says, "Antimicrobial additives are increasingly used in medical devices and food packaging. However, there are currently hardly any applications for medical device packaging."
That said, a new report from MarketsandMarkets projects the global antimicrobial plastic market to "reach around $3.6 Billion by 2020 and register a CAGR (Compound Annual Growth Rate) of 10% between 2015 and 2020 in terms of value."
The report, "Antimicrobial Plastic Market by Type (Commodity, Engineering, and High Performance Plastics) and by Application (Packaging, Healthcare, Construction, Consumer Goods, Automotive, and Others) - Global Trends & Forecasts to 2020," includes the following key points:
• Packaging and healthcare applications to drive the global antimicrobial plastics market.
The packaging and healthcare segments are the two major applications of the antimicrobial plastic market with major market share in 2014, and is projected to dominate the global market by 2020 mainly due to the growth of innovative ways to proactively inhibit microbial growth on surfaces of plastic products and medical equipment.
Growing consumer awareness about health-related infections and increasing regulations in North America and Europe to use products and devices of antimicrobial coatings so as minimize contact with pathogens and spreading of any infections is projected to drive the global antimicrobial plastics demand for healthcare applications.
• Changing consumer lifestyle and urbanization to benefit the antimicrobial plastics market.
Substantial improvements in the standard of living of consumers have resulted in increased demand for more hygienic and sophisticated plastic products. Consumers today are well aware of health-related issues and pathogenic diseases and pushing demand for products having antimicrobial properties to prevent spread of any harmful effect of microorganisms such as bacteria, fungi, and algae. This results in increased consumption of antimicrobial plastic products for applications in packaging and healthcare segments, thus propelling the growth of global antimicrobial plastics market.
• Asia-Pacific is the key market for antimicrobial plastics.
The Asia-Pacific region is projected to dominate the antimicrobial plastics market and is anticipated to account for the highest growth rate between 2015 and 2020.
China is estimated to be the top consumer of antimicrobial plastics in the region in 2014, and is projected to register a high CAGR between 2015 and 2020.
The U.S. is currently the largest antimicrobial plastics consumer globally but could be supplanted by emerging BRIC countries in the near future. Many top market players are shifting their production and distribution business in the Asia-Pacific and in South America to tap the growing market demand of antimicrobial plastics in these regions.
MarketsandMarkets says early buyers of the report will receive a 10% customization.