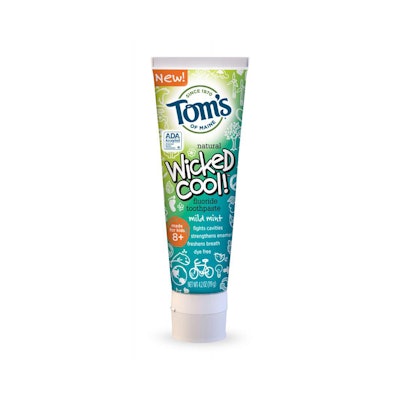 What's inside your child's toothpaste? Tom's of Maine is encouraging parents to ask that question during National Children's Dental Health Month and year-round with the addition of a new natural toothpaste made for kids 8 and older without the dyes, saccharin, or artificial flavors often found in other brands.
Tom's of Maine refers to itself as the only brand to offer both natural children's rinse and natural toothpastes that are accepted by the American Dental Association (ADA) to help prevent cavities and promote healthy teeth for kids.
Tom's of Maine new Wicked Cool! natural toothpaste with fluoride cleans gently, helps fight cavities, and strengthens enamel. A mild mint taste addresses the fresh breath concerns of older kids.
Wicked Cool! is designed as an in-between option to help kids transition from fruit-inspired flavors they enjoyed as young kids to the strong mint flavors more commonly found in adult toothpaste. For kids under eight, Tom's of Maine Silly Strawberry is the number one natural kids toothpaste, made with real strawberry flavor.
"Parents want to make the best choices for their kids," says Matt Smith, oral care senior brand manager, at Tom's of Maine. "Color and sparkles are fun, but we don't see a role for them in a child's toothpaste. Our approach is to use only a handful of the highest quality naturally-derived ingredients and to offer a line of products that supports good oral hygiene for kids as they progress through childhood."
In addition to toothpaste, Tom's of Maine Juicy Mint Children's Anticavity Fluoride Rinse provides additional cavity protection over brushing alone. Juicy Mint features natural fruity flavors and a hint of mint, pairing well with the flavors of both Silly Strawberry and Wicked Cool! toothpastes. Tom's of Maine's Juicy Mint Children's Anticavity Fluoride Rinse is ADA-accepted to help prevent cavities and has no artificial dyes, sweeteners, or flavors.
Tom's of Maine gives 10% of its profits back to the community, and this winter the company is celebrating 10 years of its Dental Health for All program. To date, the company has donated $1 million to community dental clinics and has made more than 200,000 additional patient visits possible.
Tom's of Maine new Wicked Cool! and Silly Strawberry are available nationwide for a suggested retail price of $3.29, and these natural toothpastes also come without fluoride. Juicy Mint Children's Anticavity Fluoride Rinse retails for $4.99. All Tom's of Maine products are also available at tomsofmainestore.com.
Tom's of Maine employees regularly contribute suggestions for improving the company's high sustainability standards. And their ideas, from wind power to ways to improve recycled and recyclable packaging options, are critical to the company's sensitive way of doing business. Tom's of Maine products are vegan, Kosher, halal-certified and all packaging is recyclable through a partnership with upcycling leader TerraCycle or participating municipalities.
Companies in this article