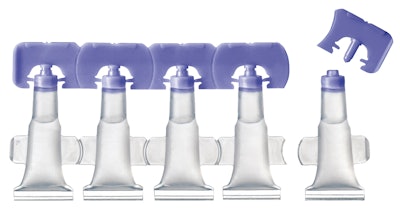 TekniPlex Healthcare, which utilizes advanced materials science expertise to help deliver better patient outcomes, will highlight a broad range of products spanning multiple healthcare areas at Pharmapack Paris, May 18-19. The company will have a strong presence at the show, with two booths in Hall 7.2: TekniPlex Healthcare, Europe at Stand A96, and TekniPlex Healthcare Division business Lameplast at Stand E23.
Combined, TekniPlex Healthcare—one of TekniPlex's two major divisions—will showcase a range of solutions for drug delivery, including plastic single- and multi-dose containers for pharmaceutical and healthcare applications, super barrier-coated PVDC PVC and Aclar® laminates for pharmaceutical blister applications, COC (cyclic olefin copolymer) coextrusions for diagnostic and pharmaceutical applications, and LDPE cleanroom bags.
"Participating in this year's Pharmapack Paris will be special for several reasons," says Bryan Wesselman, VP of sales & marketing, TekniPlex Healthcare. "For starters, it's exhilarating to return to in-person events and engage with our customers, partners, and industry friends face to face. This is also a key opportunity to showcase the total solutions of the healthcare division, and we look forward to sharing our strengthened brand presence along with our wide range of materials science solutions."
TekniPlex Healthcare, Europe (Stand A96)
TekniPlex Healthcare, Europe will exhibit an array of ISO 8 cleanroom-manufactured COC products well suited to help bring multiple novel diagnostic assays, such as PCR and ELISA, to market. Its polypropylene-COC coextrusions are also ideal for pharmaceutical blisters and other moisture-sensitive applications. Both are halogen free and recyclable in the PP stream, making them more sustainable packaging alternatives.
Lameplast, a TekniPlex Healthcare business (Stand E23)
The Lameplast single-dose packaging system features pre-made unit dose vials providing higher levels of precision, functionality, and quality control compared to blow/fill/seal applications. Benefits include improved aesthetics (no burrs), uniform orifice/drug delivery, flexible closure design and printing, options for multilayer molding with barrier materials (as opposed to just one material), more uniform wall thickness, and reclosability. None of these are possible when unit-dose vials are blown, filled, and sealed in one stage.
TekniPlex Healthcare also will feature its series of dropper bottles, which have capacities from 5 to 30 ml and are fitted with droppers of 0.03-0.04-0.05 ml and tamper-evident or child-resistant caps. Other containers also are available for specific uses, such as a 10 ml bottle compatible with Aptar's OSD (ophthalmic squeeze dispenser) or a dual-chamber bottle with reservoir.
Other bottle-applicator combinations from TekniPlex include solutions for rectal, vaginal, and topical use. The product range includes bottles with pre-inserted or separately packaged cannulas, bottles for rectal use with cannulas, micro-enemas, applicators for vaginal cream, and tubes with applicators.
Companies in this article