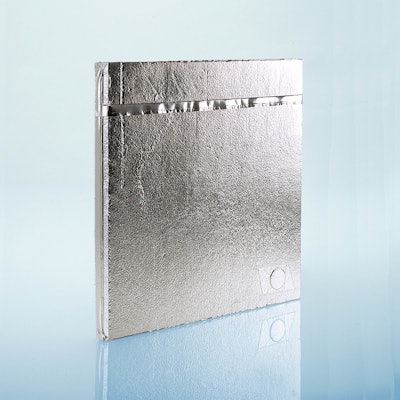 This content was written and submitted by the supplier. It has only been modified to comply with this publication's space and style.
The mechanical engineering company Wickert is currently experiencing a boom in the demand for special powder presses used in the production of highly effective vacuum insulation panels (VIPs) made of compressed fumed silica.
It has been spurred by the increased demand in efficient and space-saving insulation materials for shipping boxes used to transport COVID-19 vaccines, which can be transported reliably refrigerated with the help of the compact insulating material.
The insulating material, produced in the form of boards with a thermal conductivity of 0.004 watts per meter and kelvin, saves a large amount of space. Mineral wool requires five times as much space for the same insulating effect, and expanded polystyrene foam (EPS) requires 10 times as much. VIP is used in transport containers and trucks in refrigeration logistics, as well as in refrigerators and freezers, operational equipment, and buildings.
Wickert is one of the few manufacturers worldwide to offer and sell these custom presses to its customers in Europe and the U.S. The family-run company developed the first units, invariably manufactured as customized machines, as early as in 2010.
They are usually installed as a coordinated press system and include matching peripherals. For the most part, Wickert supplies its customers turnkey, often fully automated, production lines, which include peripherals and the matching custom molds. Here, the company acts as a general contractor, integrating all of the required components and delivering the turnkey system.
All Wickert powder presses are modular in nature, configured precisely to the customer's requirements and their very specific applications. To produce vacuum insulation panels, they are dimensioned for a specific panel size, usually for standard sizes from 1,200 x 1,000 mm to 2,000 x 2,000 mm.
The vacuum insulation panels are composed of a metalized plastic shell, which predominantly contains a silica powder with a microporous structure derived from sand, for example fumed silicon oxide. In a first step, the addition of various additives reduces the thermal conductivity of the material. Gas molecules are then extracted from the starting material under pressure and simultaneous evacuation. During this process, the loose powder is transformed into a pressed, dimensionally stable core.
The highly dispersed silica is distributed gently and homogeneously throughout the press. Any dust and dirt particles are extracted as they are formed. Accurate positioning and uniform pressure build-up at the press plunger ensure the material is pressed precisely with a homogeneous density across the entire panel. Consequently, Wickert presses are able to produce vacuum insulation panels of high quality and with an insulating effect over the entire surface. Overall, an automated production cycle with a Wickert special powder press takes around two to six min, depending on the panel thickness.
Once pressed, a cover of high-density metalized plastic composite film ensures an internal vacuum is maintained and that no gases or water vapors are able to penetrate.
Companies in this article