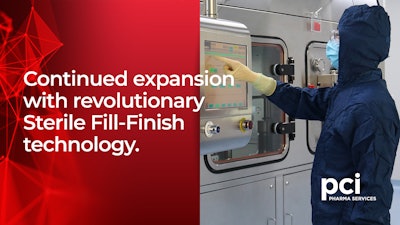 PCI Pharma Services has added three new automated sterile fill-finish machines to its San Diego, Calif., and Melbourne, Australia, facilities. Purchased from Cytiva, the equipment can pivot between filling different sterile medications into vials and syringes.
PCI has invested in a Microcell vial filler and SA25 aseptic filling workcell in its San Diego facility to ensure the delivery of medicines from phase 1 through phase 3, supporting local and global clinical client needs. Additionally, a Microcell vial filler has been placed in Melbourne to further enhance the early-stage services there and to bring additional capacity to Australia—the world's leading phase 1 environment. These machines expedite the filling process with automation and remove the need for human intervention in a sterile environment.
Each unit is contained in an isolator, creating increased patient safety and compliance advantage over PCI's peers only using hand filling technology to deliver batches of medicine. The machines are already at PCI's facilities and are expected to be fully operational in September 2022. This investment will enhance the offerings from LSNE, which includes global manufacturing capabilities in complex formulations, high potency, sterile fill-finish, and lyophilization, an important manufacturing process commonly used with injectable and biologic therapies, such as vaccines and cancer treatments.
"The addition of this cutting-edge equipment in two key locations—San Diego and Melbourne—is part of our global strategy to increase our sterile fill-finish capabilities and help alleviate the worldwide capacity shortage for sterile drugs manufacturing and packaging," says Tim Roberts, chief commercial officer, PCI Pharma Services. "The increase in number of novel drug products in development across several therapeutic areas, combined with high demand to produce COVID-19 vaccines, has made it more and more difficult for pharmaceutical companies to partner with trusted CDMOs with expertise and capacity to meet their drug product manufacturing needs. The Cytiva technology will allow PCI to offer our clients additional sterile fill-finish capabilities to support their clinical development and manufacturing and ultimately bringing important therapies to market faster across the globe."
The addition of the machines comes after the company's recent acquisition of Lyophilization Services of New England (LSNE), specialists in the manufacturing of complex injectables for biologics and small molecules, bringing broader capabilities to PCI clients across the entire product lifecycle and allowing them to bring their life-changing therapies to market with increased speed and safety.
Companies in this article
Videos from PCI Pharma Services