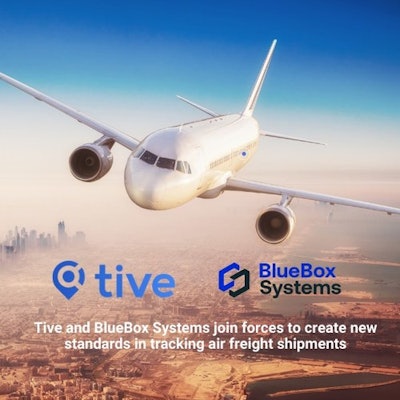 Leading in-transit visibility provider Tive and BlueBox Systems, a leading platform for monitoring airfreight in real time, have announced a strategic partnership aimed at reducing shipping delays and damage across global air freight routes.
Tive's real-time visibility solution provides shippers, 3PLs, 4PLs, and logistics services providers with real-time, hyper-accurate location and condition of their shipments. Data from Tive's multi-sensor 5G Solo trackers streams to Tive's platform—or can be integrated with a host of TMS and visibility platforms via API and webhooks, making this partnership a seamless choice for joint customers.
"The next generation of in-transit visibility is adding more ways to deliver meaningful data in real time, so logistics professionals can actively manage shipments and eliminate delays and damage," says Krenar Komoni, founder and CEO, Tive. "Hyper-accurate location and condition are a cornerstone, and together with BlueBox, we are creating a new industry standard in saving air freight loads."
"For us, Tive is one of the most important drivers in the digitalization of logistics," says Martin Schulze, BlueBox Systems. "With their monitoring and tracking solutions, they already offer the market a portfolio of both innovative and future-oriented solutions. So, it is logical for us to enter a partnership with Tive and jointly develop value for our customers."
Tive is a leading provider of real-time supply chain visibility insights that help logistics professionals actively manage their in-transit shipments' location and condition.
BlueBox Systems makes it possible to monitor airfreight in real time, allowing the individual stops of air freight while in transit to its destination to be tracked in real time.