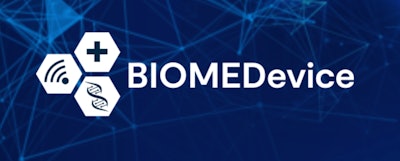 This content was written and submitted by the supplier. It has only been modified to comply with this publication's space and style.
BIOMEDevice Silicon Valley, a regional event connecting biotech engineers and cutting-edge companies organized by Informa Markets – Engineering, revealed its speaker lineup. Set to take place December 8 and 9 at the San Jose McEnery Convention Center, the educational content is free to attend and available on the expo floor, featuring technical and forward-looking keynote presentations, panels, and sessions that address the integration of digital and high-tech solutions progressing the healthcare system, presented by world-renowned experts in the biotechnology field. In addition to the in-person experience, all sessions will be accessible via an online platform four weeks pre- and post-event.
Expertly produced to provide timely education and facilitate in-depth conversation between peers, the 2021 expert-led content held at Center Stage features speakers that are hand-picked for their breadth of experience in getting a product from concept development to testing, scaling new solutions within the industry, and their ability to spur community action. Specifically, this year's content explores the continued maturation of advanced technologies within the software-as-a-medical device (SaMD) and adjacent sectors as venture capitalists inject billions to support growth in digital health and diagnostics product development, fields that raked in $8.1 billion during the third quarter of 2021 alone.
"The healthcare system is undergoing immense disruption as technological leaders continue to introduce smart solutions that improve patient outcomes and save lives, but this rapid progress requires industry connection and continued education to scale adoption of these technologies," said Adrienne Zepeda, group event director, BIOMEDevice Silicon Valley. "Many of this year's speakers are responsible for the sophisticated instruments and technologies available on the market and are eager to connect with their peers to examine the challenges faced and opportunities that remain untapped."
Zepeda continued: "While Silicon Valley is the nation's leading biotech hub and we are so excited to hold the in-person event in the epicenter of technological innovation, we understand the importance of connecting the entire industry, regardless of geographical location. Thus, our introduction of the Smart Event format grants attendees unfettered access to the biotech speakers and content via an online platform that becomes accessible [on] November 8."
A selection of BIOMEDevice Silicon Valley 2021 expert content includes:
Wednesday, December 8

Panel: The Gamble of Overseas Manufacturing - Understanding the Odds Moderator: Noreen King, President & CEO Evolve ManufacturingPanelists: Arnold Cabuang, CEO, Peridot; and Kevin O'Brien, Vice President, Operations, Triple Ring Technologies
It is widely believed that going overseas is much less expensive than manufacturing domestically. Is that really the case? Hear from expert panelists dealing with these issues as they delve into whether the added element of risk to manufacture overseas is worth the risk. You may feel as if you are gambling your dream product's successful launch, not to mention your investors' money, so it is important to understand the factors you'll need to consider when determining where to manufacture. How can customers, suppliers, and manufacturers learn and protect themselves from future disruptions?
Panel: Tales from the Trenches - Overcoming Development & Manufacturing Challenges That All IVD Companies Face Moderator: , Michael Robards, Vice President, Business Development, Planet InnovationPanelists: Anthony Favaloro, Director, Strategic Partnerships, Lumos Diagnostics; and Geoff Facer, VP of Engineering, Levitas Bio
The pandemic has driven a lot of change, both good and bad. While rapid diagnostic testing saw its first big challenge in 2020, there are many lingering obstacles, including supply chain disruptions and scale-up issues like quality control. Getting a product from concept development and testing to product development and then to manufacturing is filled with many questions and challenges. Join our panel of experts as we cover what you need to know about getting your next IVD product to market. They'll share their success stories and leave you with insights into how to avoid the problem areas.
Thursday, December 9

Not So Fast: Is That Software Really Still A Medical Device?S peaker: Michelle Jump, Vice President of Security Services, MedSec
The U.S. passed the 21st Century Cures Act in 2016, which made many significant changes to our regulation of healthcare products. One of these changes was in the definition of a medical device, specifically which types of software products are regulated medical devices. The FDA later released guidance for products such as MDDS, Clinical Decision Support Software, Mobile Medical Apps, and Multiple Function Device Products, clarifying which software is no longer under FDA's oversight as a medical device. This guidance also identified software that is under 'enforcement discretion.' Join industry expert Michelle Jump as she reviews the changes in the medical device definition and the FDA guidance that followed.
Panel: Is there an App for That? The Rise of Prescription Digital Therapeutics (PDTs) Moderator: Scott Thielman, CTO & Co-Founder, Product Creation StudioPanelists: Gordon Kass, Vice President of Engineering, Pear Therapeutics; Jessica Lake, Chief Science Officer, Limbix; and Mike Rosenbluth, Ph.D., CEO and Founder, Swing Therapeutics
A growing number of companies are latching onto the digital therapeutics label. The main difference between digital therapeutics and other sectors within digital health is that digital therapeutics are generally expected to be evidence-based, regulated technologies designed to trigger changes in patient behavior. Digital health products are not necessarily evidence-based or regulated. Clear FDA guidance around software-based therapeutics and defined paths for reimbursement provide better outcomes for patients and smarter engagement and tracking tools for clinicians.
To access the full BIOMEDevice Silicon Valley Center Stage content schedule and tune into sessions of interest, register here.
The online platform opens on November 8 and will grant all early registrants exclusive access to an online-only presentation from senior leaders at Google, plus a whole lot more.