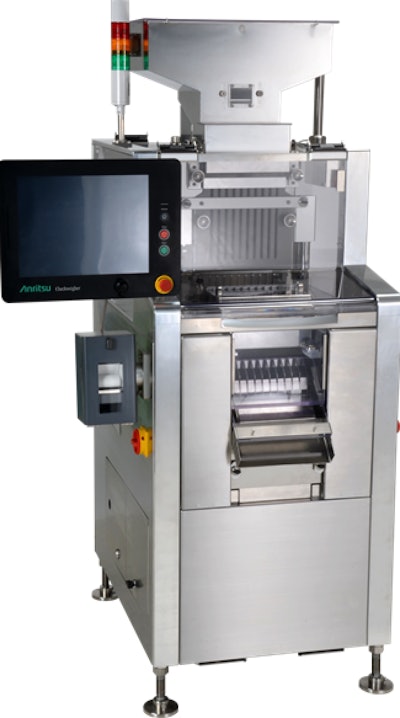 MG America, the U.S. subsidiary of MG2 of Bologna, Italy and a supplier of processing and packaging equipment, will debut two new machines at INTERPHEX NYC Booth #2221, October 19-21. One is an enhanced wraparound vial labeling machine suited for the ongoing production of COVID-19 vaccines; the other is a robust, 10-lane capsule checkweigher with a newly developed handling mechanism.
First, the WL-1-RT Wraparound Vial Labeling Machine, supplied by MG America via machinery manufacturer Packaging Efficiency Solutions, is suited for high-speed glass vial lines such as those producing COVID-19 vaccines. Capable of applying precisely placed labels to 600 vials per minute, the WL-1-RT features positive vial control via a trunnion transportation system. The unit can accommodate both thermal transfer and laser coding printing operations, and is preconfigured for the integration of an OCR/OCV vision inspection system. Non-conforming labels are rejected prior to application, and infeed/outfeed by-flow tables provide optimal buffering.
Also debuting at MG America's INTERPHEX booth is the Anritsu 10-lane 100% Capsule Checkweigher KWS9002AP10. Capable of providing comprehensive weigh-check inspection for up to 75,000 capsules per hour, the unit features a newly developed capsule handling mechanism for superbly reliable feeding and rejection functionality. Notably, the Anritsu checkweigher boasts an industry-leading weight measurement accuracy of +/- 0.5mg. The module offers user/domain authentication (user management), and conforms to international industry standards and regulations (FDA 21 CFR Part 11, GDP).
In addition, MG America will showcase two premium capsule fillers. The PLANETA 100 Capsule Filler is a continuous motion machine for medium to high production volumes, capable of speeds up to 100,000 capsules/hour. The unit can fill powders, pellets, micro-tablets, tablets, liquids and capsule-in-capsule, among other formats. The machine's modular design features two removable dosing stations that can accommodate different dispensing units.
The PLANETA 100 is available with an integrated automatic statistical in-process control system integrated, or MG America's 100% Multi-NETT weight control system, which is capable of monitoring and controlling each component in a capsule – a useful feature for combination products.
Meanwhile, the FlexaLAB Capsule Filler can produce up to 3,000 capsules per hour and is specifically designed for R&D laboratories, clinical trials, small batch outputs and special productions. The machine can function at continuous or intermittent motion depending on the type of dosing unit installed. Multiple dosing units may be installed and utilized simultaneously, enabling the FlexaLAB to manufacture capsules with combinations of products – an important asset for its research-focused target audience.
The FlexaLAB can fill powders, pellets, microtablets, tablets, liquids, and certain low-dosage powder inhalants. The machine also can perform capsule-into-capsule functions. Other features on the new FlexaLAB include a touch-screen panel with graphics and multi-language display; PLC for machine functions control; and motorized adjustment of machine speed from the monitor. Options such as a 100% weight inspector (for filled capsules) and a dry oil-free air compressor also are available.
Companies in this article