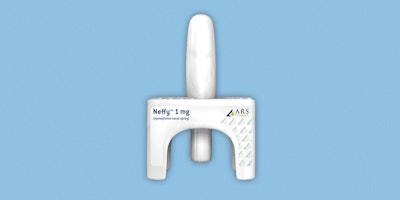 ARS
Approximately 40 million people in the US experience severe allergic reactions triggered by foods, insect stings, and medicine and rely on epinephrine shots. Unfortunately, few people with these allergies consistently carry prefilled epinephrine autoinjectors for fear of shots or discomfort with the process. Lucky for them, there is a shot-free epinephrine nasal spray called Neffy that is on the cusp of FDA approval.
However, according to a recent CNN article, the FDA has declined to approve Neffy and is requesting additional data from the drugmaker, ARS Pharmaceuticals. Back in May, an FDA advisory committee recommended approval for the spray, but on the due date for an FDA decision, the agency issued a Complete Response Letter, seeking more information on the assessment of repeat doses of the nasal spray compared to the injection form.
ARS Pharmaceuticals plans to resubmit the necessary data to the FDA next year, with potential approval expected in the second half of 2024. Other companies are also developing alternative forms of epinephrine administration, such as under-the-tongue options, to provide more choices for patients.