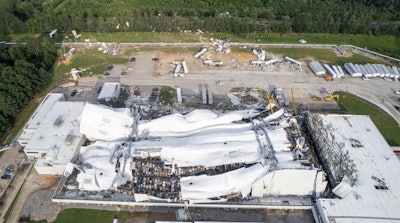 Travis Long
According to a recent CBS Austin article, a powerful tornado heavily damaged a large Pfizer pharmaceutical plant in North Carolina, part of a string of extreme weather events striking the U.S. on the same day. The plant, located in Rocky Mount, suffered significant destruction to a large complex causing 50,000 pallets of medicine to be scattered and damaged by the storm. Despite the extensive damage, Pfizer stated that there were no reports of serious injuries at the facility.
As one of the major employers in Nash County, the Pfizer plant's destruction raised concerns about the impact on the pharmaceutical supply chain and availability of medicines. The company plays a critical role in producing and storing essential medications, and the aftermath of the tornado may pose challenges for drug distribution and patient access to medications.
On July 21, FDA commissioner Robert Califf released an update on the storm damage, noting that they are working closely with Pfizer. As Califf noted, "Notably, while Pfizer has one third of the total sterile injectable drug market for hospitals in the U.S., and this facility only makes 25% of Pfizer's total product for this market – not the entire market. This means 8% of U.S. consumption is supplied by this site."
View the full FDA update here: FDA Provides Update Regarding Storm Damage at Pfizer Facility in North Carolina