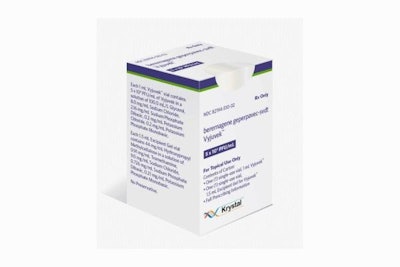 Krystal
Dystrophic epidermolysis bullosa is a rare inherited disease that causes fragile skin. People with the condition, known as "butterfly children," suffer from chronic blistering wounds all over their bodies and even in their throats and eyes. According to a recent MIT Technology News article, the FDA just approved the first gene therapy to treat the condition that is applied externally to the body.
The therapy, called Vyjuvek and developed by Pittsburgh startup Krystal Biotech, is a gene-replacement treatment that introduces a missing gene to skin cells so they can produce the collagen necessary to hold the skin's layers together. The treatment has shown promising results, reducing wound size and improving vision in patients.
Krystal's gene therapy is applied topically as an ointment and needs to be reapplied weekly due to the constant turnover of skin cells. The treatment has been approved for use on patients older than six months with this specific form of epidermolysis bullosa. While the company has not disclosed the cost of the treatment, gene therapies in the past have been associated with high prices. Vyjuvek's approval marks a significant milestone in gene therapy, as it is the first treatment intended for repeated use on the same person.