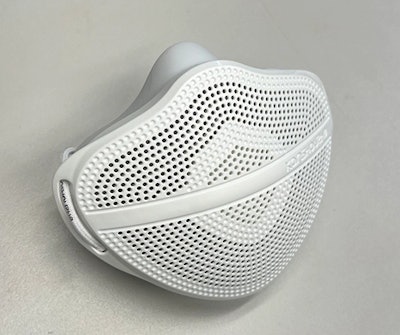 City University of Hong Kong
According to a recent Medgadget article, researchers at City University of Hong Kong have developed a self-charging face mask that can replenish its electrostatic charge through the wearer's breathing action. The mask, made from two triboelectric nylon fabric layers, generates an electric charge as the layers move back and forth during breathing, maintaining its ability to adsorb tiny particles, such as SARS-CoV-2 viruses, for much longer than conventional masks. The technology can provide enhanced protection for healthcare staff, while reducing waste.
Conventional masks lose their electrostatic charge and ability to bind particles over time, particularly in humid environments (like right in front of your mouth). However, the researchers' self-charging mask enables the continuous replenishment of electrostatic charges, resulting in prolonged electrostatic adsorption, making it an efficient, durable, low-cost air filter. The technology generates its charge without an external power source, making it convenient and eliminating the need for additional cumbersome equipment.