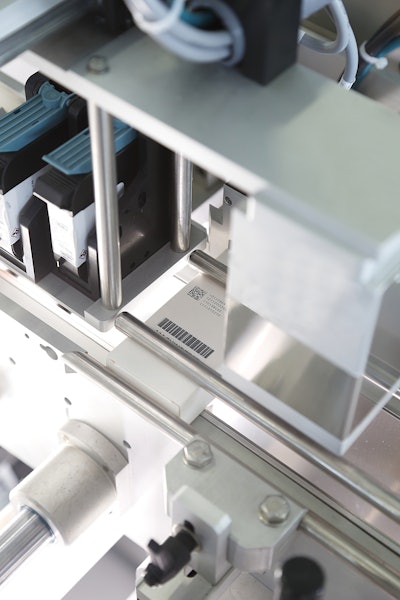 Antares Vision Group has made a series of enhancements to its state-of-the-art global tracking system software. Among other upgrades, the new version features tightened data integrity protection (DIP) and more easily integrates with off-brand Levels 1 and 2 serialization equipment—an agnosticism providing seamless aggregation.
Antares Vision Group's global tracking system is the heart of various products comprising the company's track & trace solutions portfolio. Operating on a server, its primary function is to allocate work orders to production lines. Once production has commenced, AV Group GTS receives data from all line, as well as statistics, serialized codes, and audit trails. This information is stored in the site database, where it is accessible via the GTS user interface.
Antares Vision Group's GTS offers an unsurpassed array of features. Capable of operating both on-premises and through the cloud, the system manages product recipes, associates printing layouts, and assimilates camera formats based on specific products. With virtually no batch size limitations, it oversees serialization rules per all current global regulations (sequential, alphanumeric, random, etc.). Notably, it can store multiple recipes per production line—a sizable advantage for companies serving countries with disparate track & trace regulations.
Depending on customer needs, AV Group GTS can receive serialization numbers from Level 4, or locally generate serial number pools independent of Level 4. The system can communicate with multiple Level 4-5 cloud systems, making it capable of interfacing with both in-house brand owners and external contract manufacturing organizations (CMOs).
Upon receiving production data from an enterprise resource planning (ERP) system, AV Group GTS seamlessly allocates work orders to production lines. Utilizing a centralized configuration repository for all line equipment, it also allows data to be loaded from other applications manually where required. At a work order's completion, AV Group GTS returns production data and statistics to the ERP.
Combined, these features yield various advantages that set AV Group GTS apart from many competing solutions. Crucially, its ability to optimize batch assignments can result in substantially less downtime. Its intuitive web-based interface also reduces deployment and training time, and line upgrades can be completed individually, simplifying updates.
Quality control also is simplified, owed to the full separation between Level 2 and Level 3 setups, and the ability to run on two different software versions. Recipe management with all-line setup information for the PLC, vision system, and printer information results in decreased production changeover time and reduced waste from human error during manual changeover.
In addition, AV Group GTS' centralized storage reduces management time and ensures reliable backup of all critical recipe information. It also helps guarantee consistency across all production lines, providing change control management of the recipe data and simplification of label management and validation.
Companies in this article