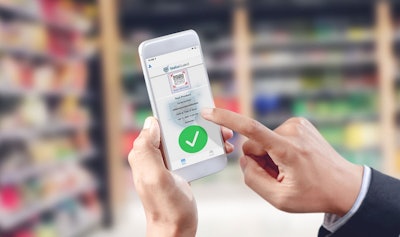 Covectra, provider of track and trace solutions, announced new enhancements to its StellaGuard, a smart label and mobile product authentication solution. It is designed so that consumers can more easily and more accurately identify, authenticate, and track genuine products and combat counterfeiting using their Android or Apple mobile devices. StellaGuard is reportedly the only security product with both overt and covert security combined in plain sight.
Brands – from clothing, handbags, shoes, cosmetics, liquor, and sporting goods to consumer electronics, automotive spare parts, and pharmaceuticals– can make use of the secure, cloud-based mobile authentication solution to protect buyers, identify illicit sellers, provide universal brand protection, and strengthen track and tracing capabilities throughout the supply chain.
New features include:
New Mobile Support for Android and Apple
With support for any Android or Apple device, more consumers can protect themselves from purchasing counterfeit or unsafe products online or in stores. Consumers can simply scan the product's barcode using the free StellaGuard mobile app and verify the product's authenticity within seconds.
Increased Holographic Flecks for Better Security
StellaGuard 2.0 incorporates more random holographic flecks that combine with a serialized QR code - unique for that label - to make the product virtually impossible to counterfeit. The StellaGuard app reads the QR code and compares the random fleck pattern and count to that QR code and once verified, will indicate Authentic or Counterfeit, preventing the purchase of any counterfeit products.
Companies in this article