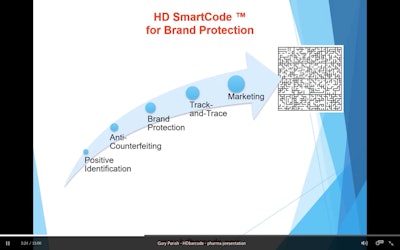 Among the topics broached at the Annual US Pharmaceutical Outsourcing & Packaging virtual reality event put on by LMN Assets were anti-counterfeiting through authentication. Two solutions were offered by HD Barcode–a developer, integrator, and provider of proprietary barcoding technologies–and RepExact­­–a manufacturer agency focused on small precision device components for medical and life sciences.
HD Smartcode
Gary Parish, managing director of HD Barcode, presented on the HD Smartcode solution, which can be incorporated into the packaging process for brand protection, anti-counterfeiting, and absolute positive identification of parts or materials, for example through embossment or laser-etching on the code. This system is designed to provide a lot of information when space is limited. Info–such as identified label manufacturer, lot number, expiration date, product dosage, and diversion information–match to the datamatrix code as a way to authenticate the label, carton, or insert.
Benefits of HD Smartcode are:
The code can be printed from a desktop printer and read with IOS and Android smartphones.
The company provides a code generator to each user to generate their own codes, passwords, and authorization keys, meaning that HD Barcode cannot recreate a user's code and only authorized readers can read and decode them.
Codes can be encrypted symmetrically or asymmetrically, and each company can decide on the size and shape configuration of its codes depending on the resolution of the codes. This includes using dot versus line patterns.
703KB of data can be embedded in the code–which allows for private key encryption–including images, such as fingerprints, facial recognition, and iris recognition. The code can also link to a website, similar to a QR Code.
No database or internet required to read the codes, and if the phone app or reading device used is embedded with language software, the code can be read back in any language that is Unicode-based.
The code can be matched to a part, by putting unique features in the image of the code and matching it to the product for security purposes.
Parish explained that for anti-counterfeiting measures, the company provides seven brand authentication solutions, which are HD Smartcode on label or carton; with anti-copy features through a corresponding smartphone app; microcode, consisting of a microscopic attachment to a smartphone that alone can read the 2mm square or 1mmby 4mm rectangle code containing up to 56 characters; track and trace; with GPS geo-mapping; printed with special UV ink for positive identification; and HD Multicode, which allows a company to place a second code within the HD barcode.
CLR-LIGA
Larry Kaufmann of RepExact, presented the CLR-LIGA solution from Mimotec–RepExact's partner for making electroformed components. Mimotec developed this technology for authentication when working in the Swiss watchmaking business at a time when fake product became indistinguishable from real product without major disassembly.
CLR-LIGA places extremely fine features on surfaces of tiny parts using photochemical processes. This technology consists of a diffractive nanostructure, or diffractive hologram, that is added to the surface of the part. Inexpensive 532nm green laser pointers are then used to shine off of the surface to show authentication by revealing a logo or message, for example, "Swiss Made", in the instance of the Swiss watches. The hologram can shine through transparent parts and bounce off of opaque parts.
Benefits of CLR-LIGA are:
Mimotec can make mold inserts out of nickel, as small as 3x3mm with holograms on them, these can be circular, square, oval, etc.
It can be applied to molded packaging or the plastic part of a product, with no dye or addition/transfer of material as the hologram is embossed on the part via mold insert.
There are no added costs per part, and it is suitable for high-volume production, including multi-cavity manufacturing.
Whereas many current authentication solutions tend to be expensive and require specific tools and equipment to authenticate, the green lasers used to authenticate are inexpensive and a company can thus equip any number of its employees with them.
The hologram is not a miniaturized image so it can't be copied without highly sophisticated and expensive equipment. Further, it is discrete and can be placed in inconspicuous locations.
The hologram is also tamper-evident.
Kaufmann explained that another use of this authentication technology is "to identify 'grey market' products–some items sell at different prices in different markets–and you may want to identify products coming into a market without the manufacturer's authority." He says that the technology is also flexible, so it is open to further development such as embossing directly on molded or pressed capsules, pills, gummies, etc.
However, CLR-LIGA is not suitable for images that change (lot numbers, serial numbers, etc.) as the main cost is in creating the photomasks, and each image requires its own photomask; or if production is outside the control of the authorized manufacturer.
Making extra mold inserts is inexpensive though, so this solution is suitable for high mold cavitation, as a company can have many mold cavities with their own inserts at very little cost. Inserts are designed to last for millions of shots and are inexpensive to reorder as long as photomasks are still available.
Companies in this article