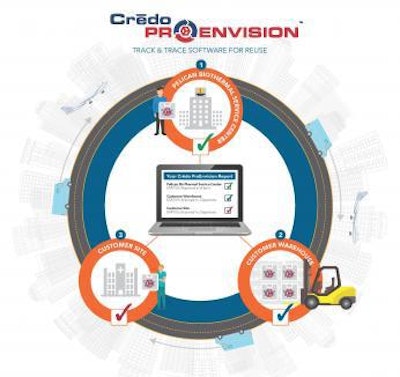 Pelican BioThermal, a supplier of temperature-controlled packaging, announces an updated version of its Crēdo ProEnvision web-based asset management tracking and tracing software. This latest version is meant to empower customers to more easily scale and manage large volumes of shippers in multiple locations. It is also designed to easily update with new features, which is expected to advance smart management of assets, such as the Crēdo Cube temperature-controlled shipper.
David Williams, President of Pelican BioThermal says that this software release is a direct response to customer feedback on ways to improve Crēdo ProEnvision. He also says that as the Internet of Things (IoT) makes its way into pharmaceutical cold chain packaging industry, the release should set the foundation for future enhancements and features to advance smart, real-time tracking and add global visibility into temperature-controlled shipments.
The release of Crēdo ProEnvision software is meant to improve system performance and provide an updated look and feel to the application. The process flow of the software hasn't changed, according to the company, and all existing data should be migrated over to the SaaS system. Current Pelican BioThermal customers using the Crēdo ProEnvision platform should experience minimal disruption during the migration and have continued access to their data and history.
The Crēdo ProEnvision system is made to help ensure payload efficacy and efficient life cycling of reusable packaging inventory assets while providing a high return on investment. It is designed to trace the location and condition of Crēdo shippers as they travel from warehouse to processing center to customer sites and back again. The software should integrate with major third-party logistic carriers' management systems to provide immediate updates on pickup and delivery of shipping units throughout the world. It should also provide automatic alerts and triggers for maintenance, refurbishment, re-use, and next shipments.
In the near future, Pelican BioThermal expects to release new software versions to leverage the Crēdo ProEnvision platform for predictive analytics. They say this will lead to more rich and varied data being collected, empowering pharmaceutical manufacturers and their logistics partners to better assess challenging shipping lanes and distribution modes where temperature excursions and other issues arise.
Companies in this article