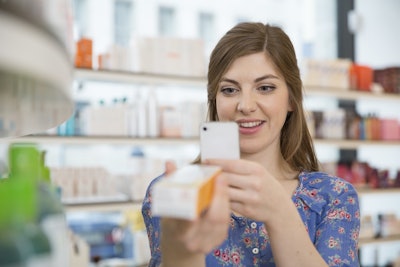 Like any pharmaceutical manufacturer, Merck & Co., Inc.'s serialization approach is driven by the Drug Supply Chain Security Act (DSCSA) in the US, Falsified Medicines Directive (FMD) in the European Union, and similar country-specific regulations around the globe. But the company is also deriving value from serialization data, and sees potential uses for the data further in the future.
"We serialize our product in accordance with all of the DSCSA, FMD and other similar regulations, so obviously there's a compulsory aspect of the work that we do," says Michele D'Alessandro, Vice President and CIO for the Manufacturing Division at Merck. But she explains that there's more to be gained. "We believe that through the collection of all of this serialized product data, there's a wealth of information in the context of big data, insights and descriptive/predictive analytics. I think it's actually untapped potential, meaning I don't think we do enough with the power behind that data today."
Check out Part 1 of this 2-part series, where D'Alessandro talks about serialization value, the human resources challenge and the need for data visualization.***
Potential for analytics
There's an important conversation about where the potential for serialization data lies, with information about how product gets to the consumer.
D'Alessandro says, "It gives us a unique ability to understand how product is being used—not necessarily being consumed—but does it get picked up right away when it's intended to, or is it sitting on the shelf? How long does it take before a patient would actually access it, and then have it in their hands?
I think that type of 'direct consumer' analysis is very powerful, and something we've yet to explore. It has some really interesting potential behind it. It never discloses the actual individual consumer as a person. But just the profile of how product reaches people can be a really interesting analytics opportunity for us that we've yet to explore."
Consumer scanning
We've heard more and more about what's possible beyond the last scan when a patient picks a product up from the pharmacy: There could theoretically be more data about the consumer, at least their interaction with the product, once they start scanning items with phones. This could also include coupons or instructions for use for the consumer.
"We would probably dovetail them into more of our commercial organization, and how they participate," D'Alessandro says, bringing up the idea of fitness and health apps on phones, where the user can scan the barcode and record things about what they are consuming. "I think it could provide significant benefit. Also, though, in the pharmaceutical environment, we have to think about what that means, how we partner with the regulatory agencies around that and how we ensure data and identities are secure and HIPAA-compliant."
Moving across borders
Another category with potential for the future involves the understanding of how the product moves across global borders. D'Alessandro explains, "This is another interesting part of how product flows. Once it gets into a given area and then its assorted shipping channels, where is it in its journey?
"There's the predictable supply chain versus when things are happening that we didn't expect, and when you start to analyze exceptions to the process. That's where we are now starting to explore, which I think could unveil some really interesting analytics."
One of the reasons this comes up so frequently in a conversation about big data and analytics, she explains, is because if companies took the possibility of this a step further, they might be able to prevent exceptions. "If you could identify that product is held or it moves through a trail that you didn't predict, if you get enough of that data over time, you could learn from that. Exceptions could actually be corrected for, and thus prevented in the future. Not only would you get to see what's happening, you would also get to put in activity to make sure that it doesn't happen again. So, it also becomes a learning algorithm, which is why we reclassify the opportunities under big data, with machine learning and AI."
Words of advice
For pharmaceutical companies that are serializing product, but not yet making use of the data, D'Alessandro advises that they start to look at the data as soon as possible: "Don't wait until you have a need. Put a few smart business and data-savvy folks on it. Because, usually, the best insights come from looking through the data, and you don't always know ahead of time what you're looking for. But, almost serendipitously, you can start to find patterns, whether it be in dwell time, channel allocation, or other Digital vs. Physical flow."
She also says people should not be afraid of combining serialization data with other data, as there may be relationships between things not previously anticipated. "We've seen strange intersections between shipping information and product information. If we hadn't combined them, we wouldn't have seen the intersection. If you wait, you'll never know."