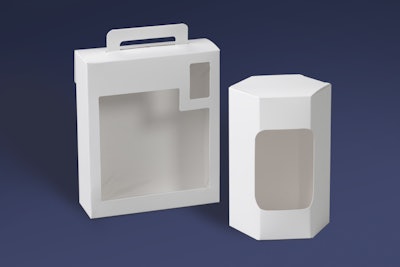 The proprietary new MasterWorks Ultra 100 Whiteback™ from PaperWorks is reportedly the first CRB to offer multiple characteristics and performance attributes similar to SBS, including high brightness of both front and back sides.
MasterWorks Ultra 100 Whiteback™ is the first offering in a new folding carton line that is expected to ultimately include multiple grades for a variety of applications—including those that need moisture resistance such as refrigerated and frozen foods, as well as beverages.
In addition to being cost-competitive to virgin grades, the new carton line has a comparable look, offers excellent printability and delivers desired filling line attributes. This includes front and backside brightness equal as well as lighter caliper and lower basis weight without sacrificing performance. MasterWorks Ultra 100 Whiteback™ also offers more stiffness and improved strength-to-weight ratios than traditional CRB.
MasterWorks Ultra 100 Whiteback™ is also Food & Drug Administration-compliant for direct food content and meets the Recycled Paperboard Alliance's 100% recycled paperboard symbol licensing requirements. It is also Forest Stewardship Council-certified.
Companies in this article