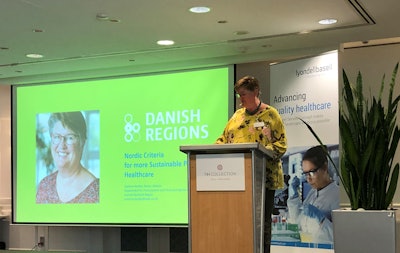 The newly released Common Nordic Criteria for more Sustainable Packaging in Healthcare were developed as a spin-off from previous efforts at Aarhus University Hospital (AUH) to improve hospital recycling rates in a meaningful and scalable way. (View the criteria here.)
The new Nordic Criteria were presented by Susanne Backer, senior consultant, circular economy, procurement and clinical engineering, Central Denmark region, at LyondellBasell's Advancing Quality Healthcare Event, which took place 6/14-15 in Cologne (Advancing Quality Healthcare | LyondellBasell).
Backer has been working with change projects within the environment, clean tech, energy, and circular economy for more than 25 years at NGO, government, regional government, and bilateral cooperation levels. "Our strategy was first of all, from the start, to get the industry 'on board' to the largest extent possible, in order to increase the chances of a successful adoption of the criteria. But also, because the industry has the deepest insight and knowledge of what is possible right now–and maybe also in the near future," Backer explains. "Secondly, representing only a small market (Denmark/Scandinavia) we realize that many of the suppliers of medical equipment operate at a global level. So we need to create alliances to match their scale."
---
---
As the 25-page document explains, "The Nordic Criteria for More Sustainable Packaging for healthcare products have been developed in close collaboration with healthcare procurement organizations in the Nordic countries. Targeted for use in public tenders, the criteria can be applied as voluntary requirements to be used by healthcare suppliers.
The Nordic Criteria for More Sustainable Packaging aim to:
Reduce [material waste]
Increase recycling
Increase the usage of recycled or renewable materials."
Included in the guide is a decision tree for tender consultants/procurement officers making purchasing decisions. For each of the topics, a library of criteria is offered covering primary, secondary, and tertiary packaging materials and the main materials used for packaging i.e. plastic, cardboard and metals. Criteria are recommendations and are divided in three levels: Basic, Advanced, and Spearhead for those at the forefront of the industry's sustainability initiatives.
As Backer says, "I am very pleased that the criteria have been met very constructively by the industry and of course also by procurement colleagues. We are still in the early days of implementation and we are looking to spread the word."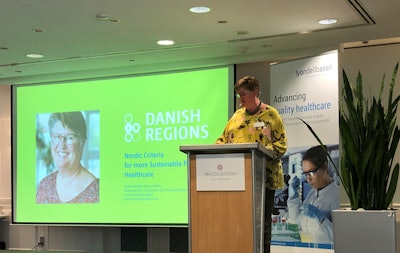 Ultimately, the goal is for the criteria to be adopted in other EU countries outside of the Nordic region. "It is a clear wish from the industry, and an important factor in successful implementation. And we are already working on it," she adds.
The presentation in Cologne was well-received. Beyond introducing the new criteria, Backer notes, "I really enjoy showing pictures from the playground we have made in front of Randers Regional Hospital, where all the equipment is made from recycled materials–and one item is constructed out of 300 kgs of hospital plastic waste, collected in our hospitals. The playground documents that high quality plastic waste from medical equipment can be collected and recycled in a safe–and economically sane–way."
View the English version of the Common Nordic Criteria for more Sustainable Packaging in Healthcare here.
Companies in this article