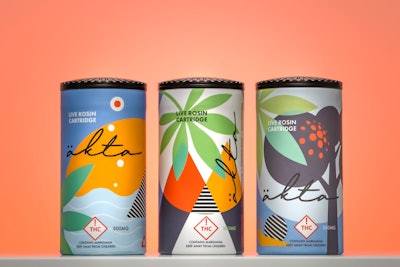 Colorado cannabis brand äkta is committed to authenticity and sustainability, both in its production methods and its product packaging. The company's solventless cannabis products, which include live rosin batter, vape cartridges, and gummies, are made from whole, fresh-frozen flower, grown by parent company Hava Gardens.
Differentiating the brand is the fact that it is one of only two companies in the cannabis space that is single-source; all its products are made from plants grown by Hava. Also a differentiator, its supplier (Hava) employs a soil-focused growing technique, whereby all of its cannabis is planted in Living Soil, which contains a robust and complex collection of microbes. Äkta also stands out for its extraction method, which is based on the traditional artisanal hash-making process of using ice, water, heat, and pressure versus extraction with solvents, such as butane, ethanol, and carbon dioxide.
According to äkta CEO Blair Kralick, while its use of this extraction method is not unique—it's currently the fastest growing segment in the industry—the brand is trying to create unique ways of using the process and new systems with newer technology and equipment that will allow it to continually innovate within the process.
---
---
Given the brand's emphasis on clean and sustainable cultivation and extraction, when it came time to design packaging for its products, äkta was determined to follow suit. "We felt like the cannabis industry as a whole is extremely wasteful—a lot of plastic, a lot of things that get thrown away due to regulatory requirements within the market," says Kralick. "So, we really wanted to be creative and look at packaging options that would meet these compliance requirements without being wasteful. We didn't want to put a bunch of trash out there, a bunch of plastic filling landfills, just to sell products."
Kralick adds that the brand also wanted to bring a touch of professionalism into the CPG world of cannabis. "I've worked with a lot of brands in the past, and we've always followed the norm of what the industry was doing," he says. "We really wanted to raise the bar and bring something new to the market."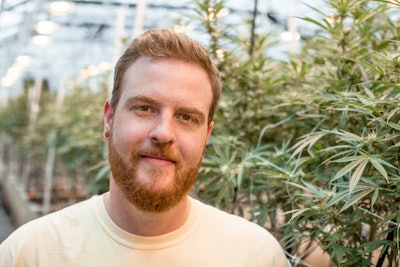 The solution came from a Google search. It was there that Kralick came upon The Paper Tube Co., a supplier of eco-friendly paper-based packaging. Wanting to avoid plastic as much as possible and looking for a format that would align with the brand's soft, approachable aesthetics, äkta selected a paper tube format. "When I came across the tube, I liked that it was made of paper and had rounded edges—it was everything I was looking for," Kralick says.
Äkta is using two different tube designs. One is for its Live Rosin Vape Cartridges in three varieties. The tube measures approximately 3.5 in. tall x 1.5 in. wide and holds a cartridge with 500 mg of full-spectrum, strain-specific, solventless live rosin hash oil. The consumer accesses the cartridge by pushing up on a paper insert on the bottom of the tube, which features a round hole to hold the product upright. Says Kralick, the insert "slides up and down like a push-pop," propelling the product out of the tube.
To meet regulatory compliance, the tube is topped with a plastic, child-resistant closure with a lineup feature that only allows the consumer to open the lid when it's lined up on the ring of the tube.
The second tube, measuring 1.25 in. tall x 1.5 in. wide, is used for its Live Rosin Concentrates and is made from paper only. The concentrates are packaged in a CR jar, with the tube acting as a marketing vehicle.
For the tube graphics, äkta worked with a Brooklyn-based graphic artist, who designed the brand logo and the aesthetics for the entire line. Says Kralick, äkta was looking for a Scandinavian pop-art feel for the packaging to align with the brand's name, which in Swedish means authentic, genuine, real, and true, as well as the inspiration for the brand, which the company says is "the untouched elements of the Scandinavian alpine."
---
---
Approachability was also at the top of the design brief. Says Kralick, "In the solventless world, we see a lot of dark colors, a lot of edginess, kind of almost a cool factor, per se, but very masculine. We wanted to lighten that up and give it more of a feminine feel with more colors and more brightness, so even if you didn't know what product was inside, it wouldn't be intimidating."
The resulting design uses a rainbow of colors—up to seven, according to Kralick. "It allowed us a lot of flexibility on which color we wanted to lean on for which variety, so there wasn't necessarily a primary color," he explains. "This also gives us a lot of flexibility as we expand the brand into the future." Designs include stylized illustrations of marijuana leaves, water, and the sun, conveying nature and a breath of fresh air.
The design of the packaging took eight months, but it was time well-spent, says Kralick. "I'm glad we took our time and went in that direction because it really sets us apart," he shares. "Especially when you're looking at a lot of packaging in some of these stores, you can really see the difference in the work that went into it."
Äkta launched its first vape cartridge SKU in October 2020, followed by two more in spring 2021. Its products are available in 120 retail cannabis locations in Colorado, primarily in the Boulder and Denver areas.
Companies in this article