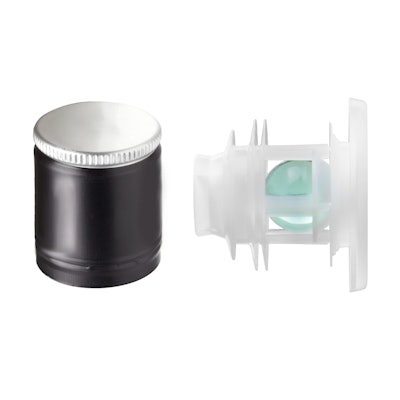 GCS's Tiva® 2 is a non-refillable closure that has a tamper-evidence ring built into the top part of the body. The ring breaks off if forced removal from the bottle is attempted, leaving permanent evidence immediately visible by end-user consumers.
The design reduces cost by using a lightweight method to transport the fitment inside the cap during transit until it reaches the capping head. This product also provides sealing capability due to patented UCP flange design. The flange carries the Tiva 2 valve in the shell and creates the seal on the glass after application, hence a seamless changeover between Tiva 2 and a standard aluminum closure.
Tiva 2 uses the same controlled bore specification as used for the current Tiva products, GF908 glass finishes, which is one of the most common industry standards. Tiva 2 can be applied to a range of bottle types at speeds of up to 600 bpm. The Tiva 2 production line has been designed to use a complex high-speed camera validation and alignment system to ensure maximum precision and repeatability at each critical step of the production process.
Companies in this article